The Damar of today provides a wide range of effective services and supports. We help those with severe autism learn to talk. Youth with severe behavioral challenges improve to the point of returning to a traditional school setting. An adult diagnosed with mental retardation exceeds the expectations of all who know them.
Many say that a visit to Damar Services' campus in southwest Indianapolis feels more like a college tour than a visit to a residential facility. At Damar, people are filled with hope — the hope of achieving their greatest potential.
—————————————————————————————————————————–
MEET THE PROFESSIONALS:
Damar's team of more than 700 human services professionals work collaboratively with families, referring organizations, government agencies and each other to achieve success for our clients. Along with valuable support from more than 1,300 volunteers, they help those we proudly serve develop new skills, a greater sense of confidence — and most importantly — hope.
—————————————————————————————————————————–
SERVICES:
Addressing the specialized needs of those it serves, Damar offers a variety of professional residential and community-based treatment and services, including (but not limited to):
Autism Services
Early Intervention
Intensive/Secure Residential Campus
Open Campus
Transitional Living Services
Group Homes
Educational Support
Community Support Services
Supported Living
Behavior Management
Mental Health Counseling
Recreational Therapy
Occupational Therapy
Expressive Therapy
Art Therapy
—————————————————————————————————————————–
CONTACT:
6067 Decatur Blvd.
Indianapolis, IN 46241
Telephone: 317-856-5201
Fax: 317-856-2333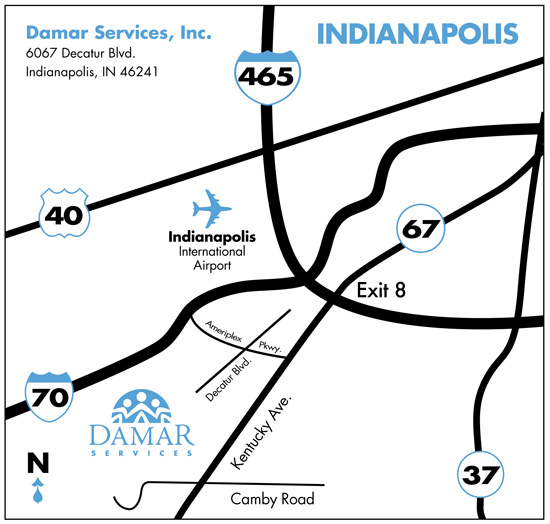 —————————————————————————————————————————–
CONNECT: