This is an archived article and the information in the article may be outdated. Please look at the time stamp on the story to see when it was last updated.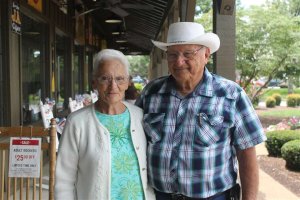 GOSHEN, Ind. – One Indiana couple has taken their love for Cracker Barrel to new levels by traveling millions of miles on a mission to visit every location.
And they've come extremely close.
Ray and Wilma Yoder, 80, of Goshen, Indiana, have visited 644 out of 645 Cracker Barrel locations, the Lebanon Democrat reports.
They visited their 644th location in Lavonia, Georgia on July 7 when they attended the grand opening. The only location the couple hasn't visited is in Tualatin, Oregon, which is a suburb of Portland, but they are planning to visit it later this year.
Their quest began 40 years ago when Ray delivered recreational vehicles across the country for Coachman. He always chose to eat at Cracker Barrel because he liked the food, and more importantly, he liked the atmosphere.
"It took the boredom out of being on the road," Ray told the Lebanon Democrat. "It has a down-home spirit, and everybody is friendly. It's like being at home."
His wife Wilma eventually joined him on the trips, and after spending over 30 years together on the road, they checked off hundreds of Cracker Barrel locations from their list.
The couple told the Lebanon Democrat they have two rules whenever they visit a Cracker Barrel location: they must buy something and leave a tip.
"We always buy something – a cup of coffee, candy or something. We don't just pull into the parking lot and leave," Ray said.
The pair says they have become "celebrities" in the Cracker Barrel world, occasionally receiving gift baskets and exclusive information about new openings.