This is an archived article and the information in the article may be outdated. Please look at the time stamp on the story to see when it was last updated.
INDIANAPOLIS, Ind.– If you visit Bier Brewery on Indy's northeast side, you'll be amazed to see a 12 feet wide mural honoring Anthony Bourdain.
The chalkboard portrait was unveiled on Monday, to pay tribute to the gifted storyteller and writer.
Sarah Buschmann, the creative director at Bier Brewery, spent six hours working on the piece of art.
"He was obviously well-loved and I felt like a lot of people, whether they had met him, worked for him, watched him or followed him, he was very impactful to a lot of people's lives," said Buschmann.
Each week, Buschmann comes up with a different mural to be featured in the tap room with the various brew lineup.
For the past five years, she has payed tribute to musicians, celebrities and influencers through memorial art pieces.
"When they have a personal connection to an artist or celebrity, it's definitely well-received," said Buschmann. "I like to pay my respect to whoever it might be and do my own little honor and tribute for them."
Buschmann's portrait of Bourdain shows him smiling with the colors green, blue, and yellow surrounding him, depicting the world.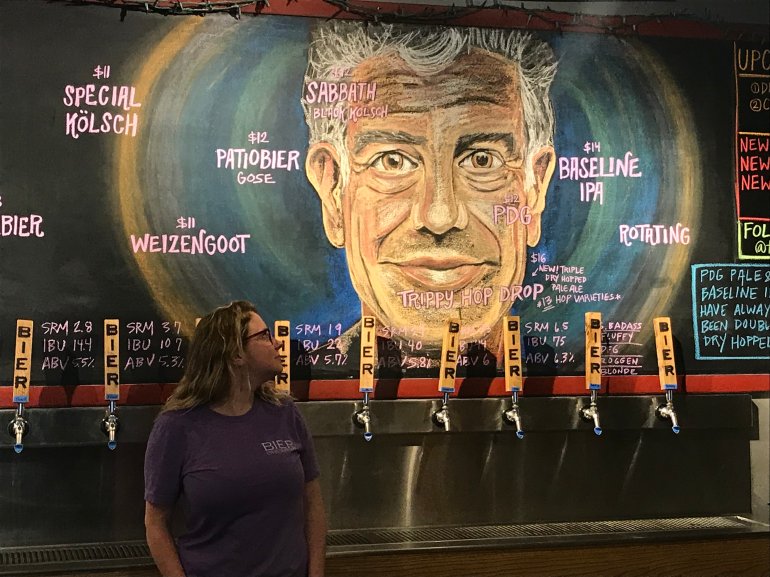 "He traveled, talked to a lot of people and touched a lot of people," said Buschmann. "It wasn't just where we are, it was everywhere."