This is an archived article and the information in the article may be outdated. Please look at the time stamp on the story to see when it was last updated.
GARDENA, CA – Emotional video of a World War II veteran having "one of the best days of his life" is going viral online and reaffirming the belief in patriotism and honoring our veterans.
Ernest Thompson, 98, served on the USS Tennessee when Pearl Harbor was attacked, and he was on the USS Missouri when Japan surrendered.
When Thompson's wife died a little over 16 years ago, the one thing he wanted to do was visit the USS Missouri again. So in 2000, Thompson's grandson Jonathan Williams took him to the USS Missouri. Williams says that's when he realized how much museum ships mean to veterans. "I witnessed an 82 year old man become 18 again and a flood of emotions that affected all that were present tremendously. When I returned home, I was so incredibly impacted by this experience that I felt other veterans should be able to experience this," said Williams.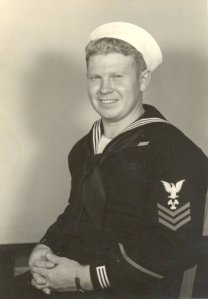 When Williams returned home he found out that the USS Iowa, the sister ship of the USS Missouri, needed to be saved. He partnered with several other people and made it his life's work to restore the USS Iowa for other veterans.
Today, Williams is the CEO of the Battleship IOWA Museum in Los Angeles. The museum is just 15 minutes from his grandfather's house.
When the museum opened, Thompson joined the IOWA Museum Crew with other WWII veterans, and every Sunday they volunteer their time to tell their story to the public at the museum.
USS Iowa spokesperson Andrew Bossenmeyer told FOX59 that it brings Thompson so much joy to tell his story, and he's greatly influenced everyone who visits the museum on the importance of history, patriotism, and military/veteran appreciation.
Unfortunately, Thompson has had some health issues lately, and he hasn't been able to visit the ship as much as he would like.
When the Chief Selects from the Fleet Anti-Submarine Warfare Training Center find out that Thompson hasn't been able to visit the ship as frequently, they decided to surprise him at his house.
They sang the Navy's march song, "Anchors Aweigh" in front of Thompson's house.
Thompson saluted them as they sang, and then each of the chief selects shook his hand.
Bossenmeyer says what's so remarkable is that Thompson had fallen earlier in the year, and his was the first time he stood up since the incident.
Thompson told Williams it was "one of the best days of his life."
Since the video was recorded and posted on August 13, it has received over 5.3 million views. Bossenmeyer says the popularity of the video reaffirms the belief in patriotism and honoring our veterans.