This is an archived article and the information in the article may be outdated. Please look at the time stamp on the story to see when it was last updated.
Indianapolis is quickly becoming one of the hottest food cities in America.  A destination for true foodies who are interested in everything from fine dining to food trucks.  This column will put the spotlight on one of these local hot spots to help get the word out and share in the love of all things food.
Review by FOX59.com contributor Dustin Heller
Our trek through the Indy food scene has already taken us to Mass Ave a few times before, but not like this.  We're accustomed to visiting the buzzy farm-to-table restaurants that line the trendy sidewalks, but this week we're visiting an ocean-to-table restaurant that specializes in wild and sustainable seafood.  Salt on Mass is a scratch kitchen that is located right in the heart of the booming Mass Ave food scene at 505 Massachusetts Avenue.  Salt sources their product daily in their ongoing commitment to freshness–so much so that they don't even own a freezer.  Can't get any fresher than that!
With its amazing view of the downtown area and the immaculate coastal decor, the atmosphere at Salt makes you feel like you're on vacation.  From the nautical ropes to the stone pillars, the place feels like it should be surrounded by the ocean.  The dining area is dimly lit, but the floor-to-ceiling windows allow for an abundance of light to pour in from the outside, thus adding to the ambiance.  The south end of the restaurant boasts an outstanding bar that is ideal for an after work drink or a late night dinner.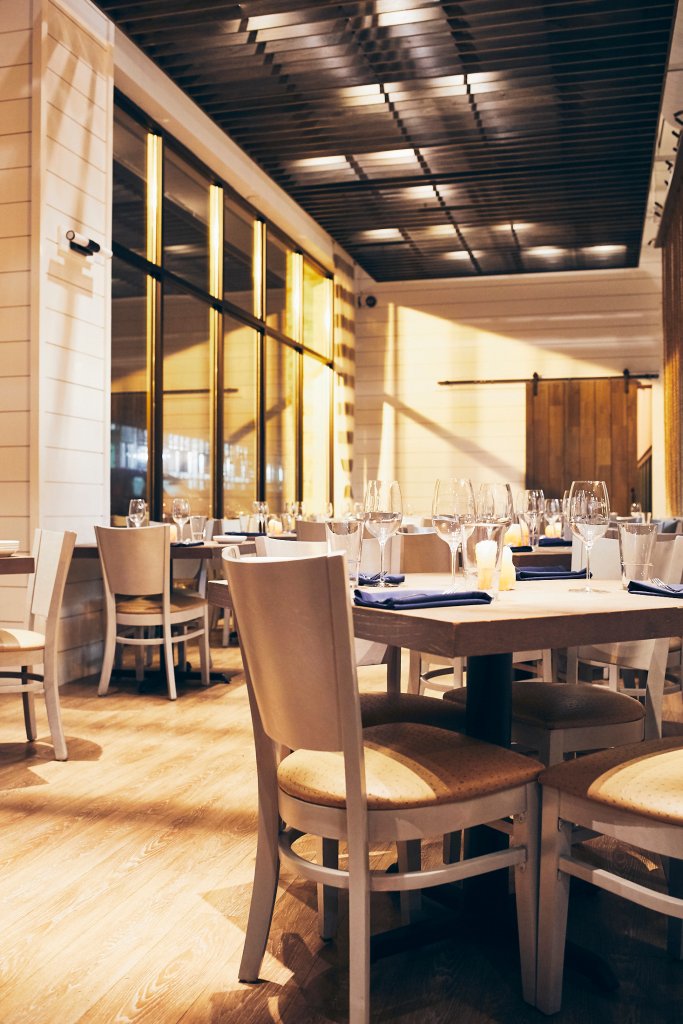 Even though Salt specializes in seafood, it could also double as a steakhouse.  The menu is very diverse and interesting–perfect for true food lovers.  You're going to want to spend some time on the shareable starters section because there are some true gems hidden there (more on them below).  All of the food is made in-house with a commitment to quality and freshness that you can't find just anywhere.  I don't know about you, but I'm ready to eat, so here are my four "can't miss" choices from the Salt on Mass menu:
Boston Lobster Poutine: I tend to not speak in absolutes when it comes to food because I obviously haven't tried everything out there.  I'll take this opportunity to challenge all of you to find a better poutine anywhere.  You're probably thinking that lobster on a poutine is cheating, but that doesn't matter when something tastes this good.  Think of it as a little piece of heaven in a skillet.  Poutine by definition is French fries topped with cheese curds and gravy; Salt elevates their version with lobster meat and–get this–lobster etouffee.  The poutine is listed on the "Social Plates" portion of the menu, but I'm pretty sure you're not going to be feeling social when it comes time to share.
Hawaiian Steamed Buns: You might not expect to find steamed buns on the menu at a nice seafood and steak place. Nevertheless, heed my warning and do not miss these!  The bun is pillowy soft, fluffy and stuffed with pineapple hoisin glazed pork belly and walnut shrimp remoulade.  The pork belly is sweet and smoky and the remoulade is creamy with a nice crunch coming through from the walnuts.  They are melt-in-your-mouth good.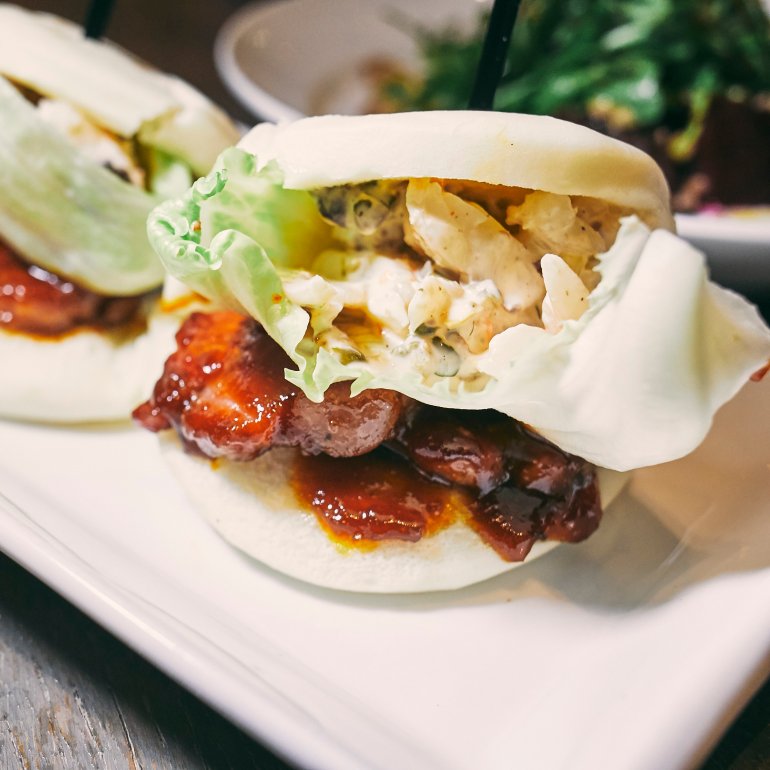 Seared Tuna Au Poivre: Au Poivre is a fancy way (and French way) of saying peppered.  They start with a lovely yellowfin tuna fillet, coat it with loosely cracked peppercorns, then sear it to perfection, leaving a nice peppery crust and a warm, rare center.  It is served on a bed of beluga lentils and topped off with shaved Brussels and a delightful brandy peppercorn sauce.  It is a peppery explosion in your mouth!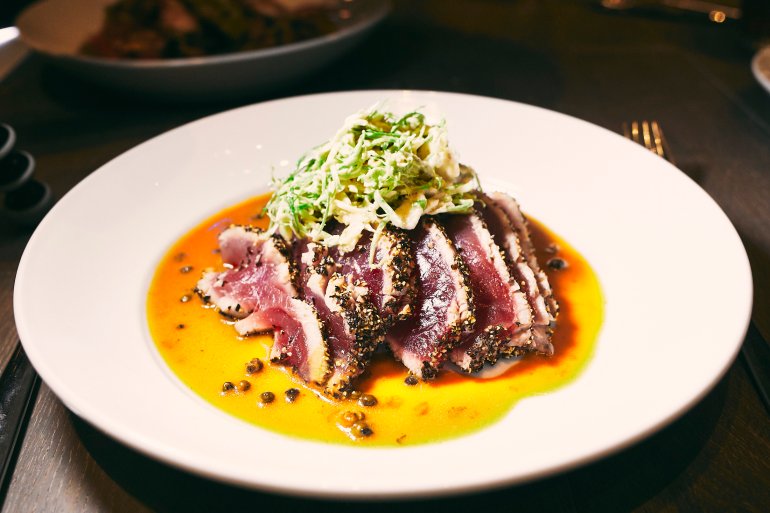 Chilean Sea Bass; aka the Patagonian Toothfish: It is called Chilean Sea Bass because the Chileans were the first to market it commercially in the U.S., even though it doesn't even have to come from Chilean waters.  The fish being served here is from the uninhibited Heard and McDonald Islands, which happens to be one of the most remote places on Earth.  But enough about geography–let's talk taste.  The fish has a very meaty texture and buttery, smooth taste.  They do a nice Parmesan crust on top and serve it with a delicious mushroom risotto, sugar snap peas, and a tangy lemon beurre blanc.  A perfectly designed dish!
If my words aren't enough to get you in the door at Salt, then hopefully these mouthwatering pictures will do the trick.  For your next evening out on the town, look no further than this hotspot on Mass Ave.