The deadline for Marketplace health insurance enrollment is approaching fast. MDwise, a local Indiana-based nonprofit health insurance company, has a trained team of Marketplace Guides in place to help make applying for a plan as easy as possible.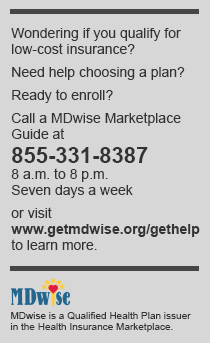 MDwise Marketplace Guides can be reached by calling 1-855-331-8387 and can help customers:
Get estimates of costs, including whether or not they qualify for low-cost insurance
Choose a plan level based on their health needs and budget
Prepare & submit applications to healthcare.gov
MDwise Marketplace Guides are also available at all MDwise Marketplace Education & Enrollment Events, and will even conduct home visits upon request.
Whether customers are meeting with a Guide face-to-face, or enrolling over the phone, they can be confident someone will be there to make sure their application is completed and processed correctly.
To find out more, call 1-855-331-8387 to speak with a MDwise Marketplace Guide 8 a.m. to 8 p.m., seven days a week. Language services and interpreters are available.
—————————————————————————————————————————–
About MDwise
MDwise is a Qualified Health Plan issuer in the Health Insurance Marketplace. MDwise is Indiana's only nonprofit health insurance company focused on giving uninsured and underserved Hoosiers the compassionate service and care they want and need. MDwise's services are currently provided to more than 300,000 members in partnership with more than 1,400 primary medical providers and a statewide array of specialists, hospitals and other providers.