This is an archived article and the information in the article may be outdated. Please look at the time stamp on the story to see when it was last updated.
I will always love themed treats, and I've made some pretty fun ones in the past for the Indy 500 / Memorial Day weekend. This year is no exception! I wanted to celebrate the official start of grilling season by making cute little grills.
Recipe courtesy of Kylee Wierks of Kylee's Kitchen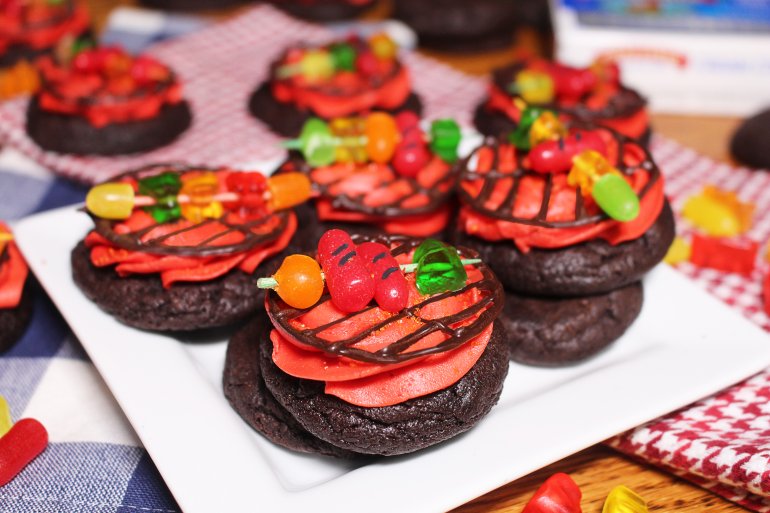 Cookout Cookies
Ingredients
For the cookies
For the buttercream frosting
1 cup Challenge butter, softened
4 – 5 cups powdered sugar
2 Tablespoons heavy cream
2 teaspoons vanilla extract
1/4 teaspoon salt
Red food coloring
For the grill grates
For the shish kebabs
Gummy bears, Mike & Ike's, Hot Tamales, etc. cut into small pieces
Directions
For the cookies
In a large bowl, combine dry cake mix, melted butter, and egg.
Add cream cheese and beat until completely incorporated.
Stir in chocolate morsels.
Refrigerate dough for 30 minutes so it's easier to shape into a ball.
Once dough has been chilled, preheat oven to 350 degrees Fahrenheit.
Form dough into 1-inch balls, place on baking sheet, and bake for 8 minutes.
Allow to cool before frosting.
For the buttercream
Beat the butter on medium speed until smooth–about 2 minutes.
Add heavy cream, vanilla, salt, and powdered sugar. Beat on low speed until combined, and then increase mixer to high speed for about 3 minutes.
If frosting isn't thick enough, add 1/2 cup more powdered sugar. If frosting is too thick, add more heavy cream.
Frost cookies. I always prefer to use a piping bag, but you can just spread it on if you prefer.
For the grill grate
Print out picture of grill grate, and cut piece of wax paper to lay on top of it.
Melt chocolate and add to Ziploc bag. Cut one corner and trace grate design on wax paper.
Let harden and place on frosted cookies.
For the shish kebabs
Place small candy pieces on toothpick and place on top of grill grates.