This is an archived article and the information in the article may be outdated. Please look at the time stamp on the story to see when it was last updated.
Recipes courtesy of Kylee Scales of Kylee's Kitchen
Toasted Brown Butter Rosemary Nuts
Ingredients
3 cups mixed nuts, unsalted and not roasted
3 Tablespoons Challenge unsalted butter
3 Tablespoons brown sugar
2 Tablespoons fresh rosemary, chopped
3 teaspoons salt
1/2 teaspoons cayenne pepper (add 1/4 teaspoon more if you like spice)
1/2 teaspoon cumin powder
1/2 teaspoon black pepper
Directions
Place mixed nuts in a microwave-safe bowl and microwave for 2 minutes to toast the nuts.
Put butter in large microwave-safe bowl and cover bowl. Microwave for 2 minutes. Remove from bowl and stir. Continue to microwave in 30-second intervals until the butter is amber in color and there are brown flakes of butter at the bottom of the bowl.
Remove butter from microwave. Stir in brown sugar, rosemary,  salt, cayenne pepper, cumin, and black pepper.
Add nuts to bowl and mix to combine.
Microwave in 30-second increments for 4 minutes, stirring each time.
Spread out nuts in single layer on parchment paper and let cool before serving.
Recipe adapted from No Spoon Necessary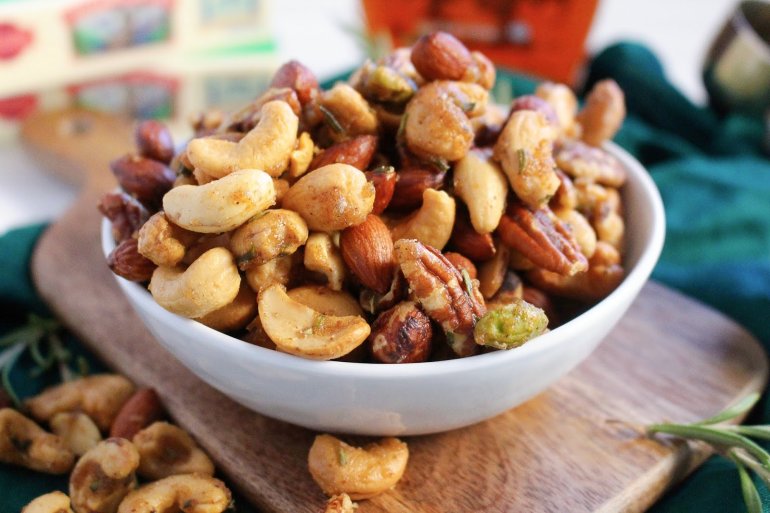 White Chocolate Peppermint Popcorn
Ingredients
24 cups (about 2 microwave bags) popped plain popcorn (sea salt is fine, but not buttered popcorn)
12 ounces white chocolate or white candy coating
1/2 cup peppermint candies (about 8 candy canes)
Red sprinkles (optional)
Directions
Spread out popcorn in a single layer on a baking sheet lined with parchment paper
Crush candy canes by placing them in bag and smashing them with rolling pin
Melt white chocolate in microwave in 30-second intervals until smooth, stirring each time. It should take about 2 minutes.
Drizzle white chocolate over popcorn and sprinkle with crushed peppermint candies and sprinkles.
Allow white chocolate to harden before breaking into pieces and serving.
Recipe adapted from Taste of Home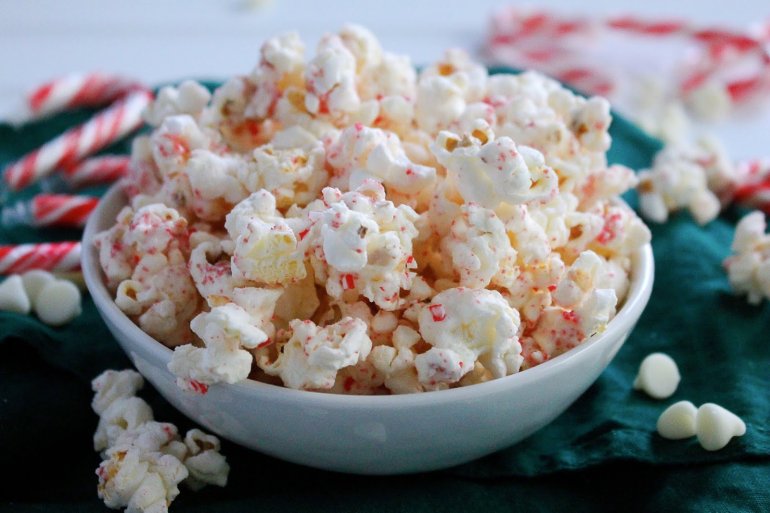 Chai-spiced granola
Ingredients
4 cups rolled oats
1 1/2 cups mixed nuts
1/2 cups unsweetened coconut
1/2 cup maple syrup
1/4 cup coconut oil, melted, or olive oil
1/4 cup brown sugar
1 Tablespoon cinnamon
2 teaspoons vanilla extract
2 teaspoons ground cloves
1/2 teaspoon ground cardamom
1/2 teaspoon salt
Directions
Microwave just the granola in microwave safe bowl for 2 minutes, stirring at the 1-minute mark.
Combine all other ingredients with the oats and microwave on high for 4 minutes, stirring after every minute. The oats should start to brown.
Cool granola on parchment paper before serving.