This is an archived article and the information in the article may be outdated. Please look at the time stamp on the story to see when it was last updated.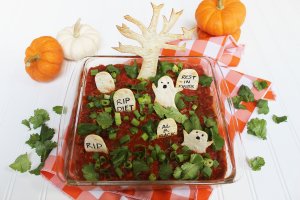 Recipe courtesy of Kylee Scales of Kylee's Kitchen
Cheesy Graveyard Taco Dip
Ingredients
8 ounces cream cheese, softened
1 cup shredded Mexican cheese
1 (1 ounce) envelope of taco seasoning
1 pound ground beef, cooked and fat drained
1 (10 ounce) can diced tomatoes, drained
1 (15 ounce) can black beans, drained and rinsed
2 cups salsa
1/4 cup green onions, chopped (optional)
1/4 cup cilantro, chopped (optional)
Tortillas
Black edible marker (like this one)
Directions
Mix together cream cheese, Mexican cheese, and taco seasoning
Stir in ground beef, diced tomatoes, and black beans
Prepare 8×8-inch baking dish with nonstick cooking spray. Transfer mixture to dish and smooth the surface
Evenly spread salsa on top.
Bake at 350 degrees Fahrenheit for 20 minutes
While dip is baking, cut tortillas into tombstones, ghosts, and trees
Place shapes onto baking sheet and bake at 350 degrees Fahrenheit for 5 minutes
Remove dip from oven and sprinkle with green onions and cilantro.
Use black edible marker to write on tortilla tombstones and stick them upright into dip so it looks like a graveyard.
Serve with tortilla chips.