This is an archived article and the information in the article may be outdated. Please look at the time stamp on the story to see when it was last updated.
Kim's Sinister Snack Mix
4 cups corn Chex cereal
4 cups rice Chex cereal
4 cups square cheese crackers
4 cups tiny twist pretzels
8 tablespoons unsalted butter (1 stick)
1 tablespoon Worcestershire sauce
½ cup regular or hot Buffalo wings sauce
2/3 cup grated Parmesan cheese
1 packet (1 ounce) ranch dressing mix
2 cups Roasted and Salted Wonderful No Shell Pistachios
Preheat oven to 325°F. In a very large bowl, mix together all cereals, crackers and pretzels. In a microwavable bowl, melt butter. Whisk in hot sauce and Worcestershire sauce. Drizzle over cereal mixture and toss lightly to coat. Sprinkle with Parmesan cheese and ranch mix. Toss lightly to coat all pieces. Spread mixture evenly on two large (18 x 13-inch) baking sheets. Bake, stirring several times during cooking, about 25 – 28 minutes, or until pieces begin to crisp. Watch closely starting at 20 minutes so pieces don't burn. Remove from oven, stir in pistachios and let cool. (Pieces will crisp up as they air-dry.)Store in tightly covered container until serving time. Can also be frozen.
Makes about 16 cups (32 servings of ½ cup each).
Recipe by culinary registered dietitian nutritionist Kim Galeaz, RDN CD
Red Devil Cocktail*
1 ½ oz. POM Wonderful 100% Pomegranate Juice
1 ½ oz. grapefruit vodka
1 oz. fresh orange juice
1 oz. cinnamon syrup
Garnish: cinnamon brown sugar for rim of glass and orange zest
Mix Pom Pomegranate Juice, vodka, orange juice and cinnamon syrup in cocktail shaker glass and shake well. Strain into prepared glass (Rim already coated with that garnish) and add orange zest. Serve and enjoy. Makes 1 cocktail.
*Non-Alcoholic Kid-Friendly Version = substitute lemon-lime or grapefruit seltzer water for the vodka, or just increase the juices. Stir and serve in kid-friendly glasses with straw.
Recipe courtesy of POM Wonderful 100% Pomegranate Juice with mocktail adaptation by culinary nutritionist and dietitian Kim Galeaz, RDN CD
Trick or Treat Tortellini Bites with Spooky Spinach Pistachio Pesto
1 or 2 bags (12 – 16 oz.) frozen cheese tortellini and/or ravioli
Toothpicks for serving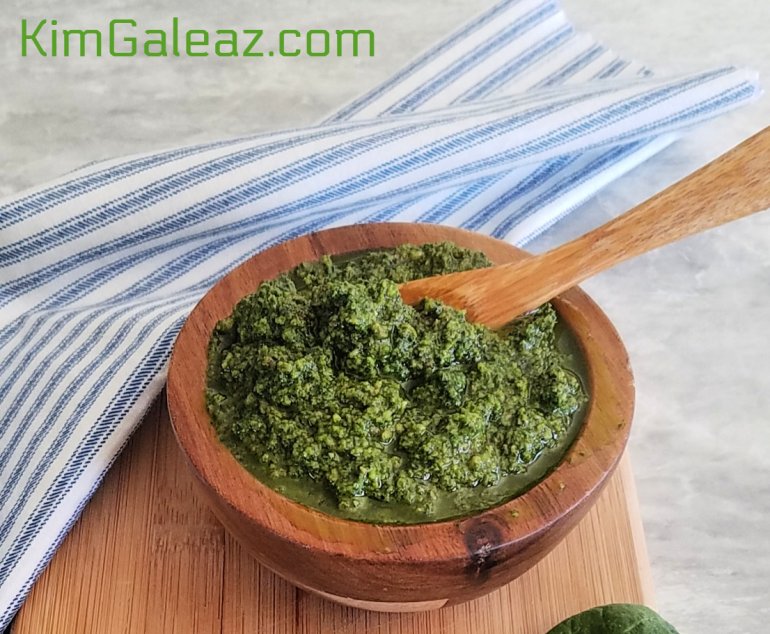 Spinach Pistachio Pesto
5 cups tightly packed Kroger baby spinach leaves
1 large clove garlic, coarsely chopped
¾ cup Wonderful No Shell Lightly Salted Pistachios
¾ to 1 cup very finely grated Parmesan cheese
¼ teaspoon EACH salt and pepper
½ - 1 teaspoon grated lemon zest
1-2 teaspoons freshly squeezed lemon juice
1/3 cup extra virgin olive oil
Cook tortellini/ravioli according to package directions. While they cook, make pesto. Add spinach, garlic, pistachios, cheese, salt, pepper, lemon juice and lemon zest to food processor bowl. Pulse several times until coarsely blended but not smooth. With processor running, pour in olive oil, adding until your desired consistency of the pesto. Serve with cooked tortellini and ravioli with toothpicks. Makes about 1 1/2 cups pesto.
Recipe created by culinary registered dietitian nutritionist Kim Galeaz, RDN CD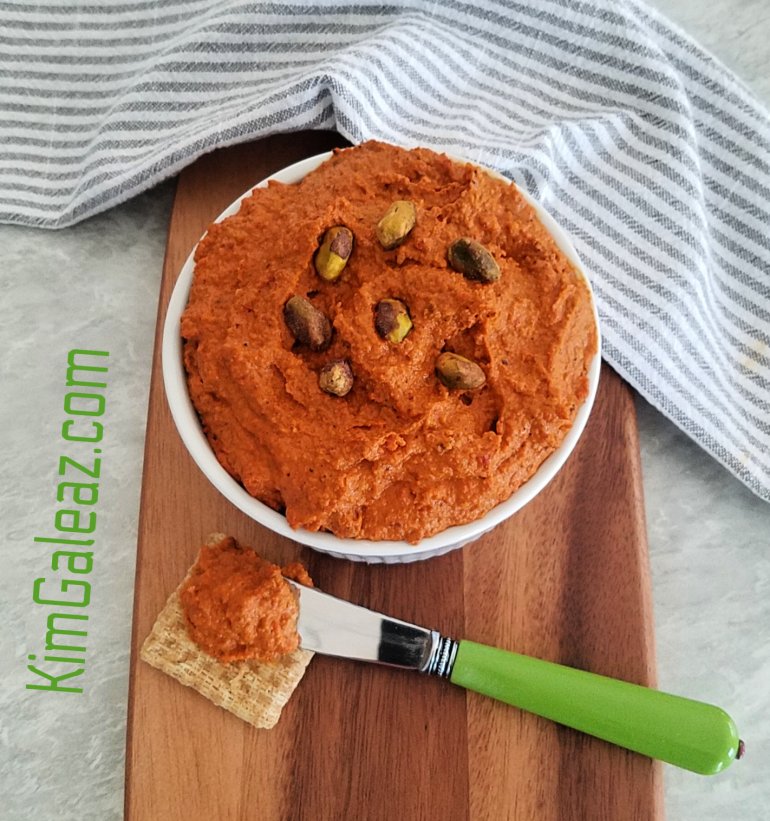 Devilish Red Pepper Pistachio Dip
1 jar (16 oz.) roasted red peppers, drained and patted dry
1 ½ cups roasted and salted Wonderful No Shell Pistachios
2 garlic gloves, finely chopped
1 teaspoon crushed red pepper
2 teaspoons good quality paprika
1¼ teaspoon cumin
¼ teaspoon salt
1/8 teaspoon ground black pepper
1/8 teaspoon ground red cayenne pepper
4 tablespoons freshly squeezed lemon juice
3 tablespoons honey
2 – 2 ½ tablespoons extra virgin olive oil
Place peppers and pistachios in food processor. Blend slightly. Add garlic and all spices and blend again. Add lemon juice, honey and olive oil and blend until thoroughly combined.
Makes about 2 1/3 cups dip. (8-10 servings)
Serve with whole-wheat pita wedges and fresh bell pepper strips, broccoli and cauliflower.
Recipe created by culinary registered dietitian nutritionist Kim Galeaz, RDN CD