This is an archived article and the information in the article may be outdated. Please look at the time stamp on the story to see when it was last updated.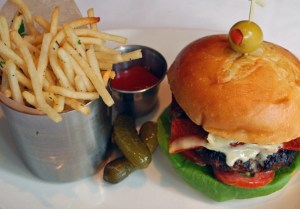 1 Sodo Bun
2 tsp. Extra Virgin Olive Oil
8 oz. Hamburger Mix
.25 tsp. Coarse Ground Black Pepper
.25 tsp. Kosher Salt
1 oz. Chorizo Sausage
1 oz. Cambozola Cheese
2 tsp. Dijonnaise Sauce
2 tsp. Basil Pesto
2 Lettuce Bibbs
4 slices Half Dried Roma Tomato
1 tsp. Balsamic Vinegar Dressing
1 Pimiento Stuffed Green Olive
2 Cornichons Dill Pickles
1. Brush top and bottom bun with the oil, toast bread on grill.
2. Season burger with salt and pepper, cook burger to desired temperature. Place the sliced chorizo on the grill just to heat, place on finished burger and top with the cambozola cheese, melt the cheese under the salamander.
3. Spread top bun with the dijonnaise and bottom bun with the pesto.
4. Place the lettuce on the the bottom bun, toss the tomatoes in the balsamic vinaigrette and place on the lettuce, top with the finished burger.
5. Finish burger with top bun and olive on a pick and plate at 3 o`clock. Plate fries at 9:00. Place ketchup at 12 o`clock and cornichons below the ketchup. Serve.