This is an archived article and the information in the article may be outdated. Please look at the time stamp on the story to see when it was last updated.
BLOOMINGTON, Ind. – One person was killed and a student was injured in a shooting near the Indiana University campus on Thursday.
The shooting happened at an apartment complex around 9:15 p.m. in the 2000 block of N Walnut Street, just west of the football stadium. A majority of people who live in the apartments are students.
When police arrived they found one person suffering from multiple gunshot wounds in the chest area and one person had been shot in the shoulder.
Both victims were transported to IU Health Bloomington Hospital. Once at the hospital, the victim with multiple gunshot wounds, identified as 21-year-old Skylar Maupin of Seymour, died as a result of his injuries.
The surviving victim was able to provide identifying information about one of the suspects to the first arriving officers.
Investigators believed that the suspects fled from the scene in a red car and were most likely heading north. Counties north of Monroe County were alerted of the suspect vehicle description, and a short time later, a deputy with the Morgan County Sheriff's Office observed a vehicle that matched the description traveling northbound on I-69.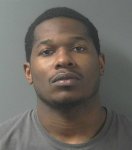 After a brief search of the area by other deputies with the Morgan County Sheriff's Office, the suspect vehicle was located backed into a private driveway near the intersection of Josephine Street and Dickson Street in Martinsville.
Two suspects were taken into custody. The deputies noted that a handgun could be seen in plain view on the floorboard of the suspect vehicle.
Officers with the Bloomington Police Department traveled to Martinsville and took custody of the two suspects and impounded the suspect vehicle for later processing.
Jamarius Turnage, 25, of Fort Wayne, was charged with murder and robbery, level 2 felony.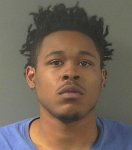 Cleodis Collins, Jr., 24, of Fort Wayne, was charged with murder, attempted murder, level 1 felony, and robbery, level 2 felony.
The investigation revealed that Turnage and Collins traveled to Bloomington to purchase marijuana from the victims, but they decided to rob them instead.
Once inside the apartment, a physical altercation between one of the suspects and one of the victims began in a bedroom.
One of the suspects fired multiple shots and both suspects ran out of the apartment. Once outside, the other suspect fired shots into the front window of the apartment. One of these shots hit the second victim.
Police say there was no threat to the public.
IU says they did not activate their alert system because it was not an ongoing threat which endangered others on or near campus.