This is an archived article and the information in the article may be outdated. Please look at the time stamp on the story to see when it was last updated.
DOUGLASVILLE, Ga. –A white man and a white woman who were among a large group of people waving Confederate flags and threatening violence at a black child's birthday party in Georgia have been sentenced to lengthy prison terms.
Jose Ismael Torres, 26, and Kayla Rae Norton, 25, were part of a group of 15 people who disrupted the eight-year-old's party in Douglasville in July 2015, less than a month after white supremacist Dylann Roof killed nine African-Americans at a historic black church in South Carolina.
Roof brandished Confederate flags in several photographs that came to light soon after his arrest and had said he intended to start a race war with the killings.
Torres and Norton were found guilty Monday of yelling racial slurs and threatening to kill partygoers, even the kids.
Torres was sentenced to 13 years in prison. Norton received six years, news outlets reported.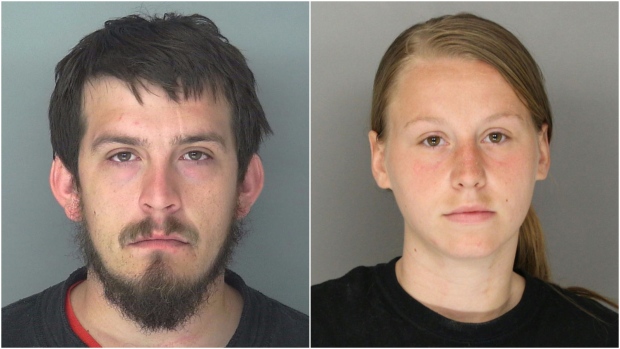 'Their actions were motivated by racial hatred'
They were among four people in the group charged with felonies. The other two pleaded guilty and are serving shorter prison sentences.
Torres and Norton wept as the sentences were handed down.
"Their actions were motivated by racial hatred," said Superior Court Judge William McClain.
The judge ordered the two permanently banished from Douglas County once they are released.
"This is behaviour that even supporters of the Confederate battle flag can agree is criminal and shouldn't be allowed," Douglas County District Attorney Brian Fortner said in a statement.
Norton was sentenced on one count of violating Georgia's street gang act and one count of making terroristic threats. Torres was sentenced on three counts of aggravated assault with a deadly weapon, one count of terroristic threats and one count of violating the street gang act