This is an archived article and the information in the article may be outdated. Please look at the time stamp on the story to see when it was last updated.
INDIANAPOLIS, Ind. – Two Indiana judges were shot in a White Castle parking lot downtown early Wednesday morning.
The shooting happened around 3:20 a.m. at the 55 West South Street location.
Both of the gunshot victims are judges in Clark County, Indiana. They are in town for Spring Judicial College which started Wednesday morning. They were identified as Brad Jacobs and Andrew Adams. Jacobs was critically injured, while Adams was in stable condition.
In a more detailed timeline, police say downtown district officers heard faint gunshots while on patrol downtown. As officers began to look for the source of the possible gunfire, a person shot run was dispatched.
The detective has not been able to get a statement from the victims, but several witnesses have been interviewed. Those witnesses told police the victims and two other persons visited several downtown restaurants and bars. The group went to the bar adjacent the White Castle, but it was closed. While outside the White Castle, the two victims and another person stood near the building, while a fourth person went into the restaurant. Police say a vehicle then pulled into the lot and parked, and people from inside the vehicle got out and attempted to get into the restaurant, but the doors were locked. Words were then exchanged between the groups and a physical fight ensued. Eventually, shots were fired, and the two victims were hit.
The shooter fled in a the vehicle.
Police say victims did not shoot each other. Currently, police do not know what the conversation was between the two groups.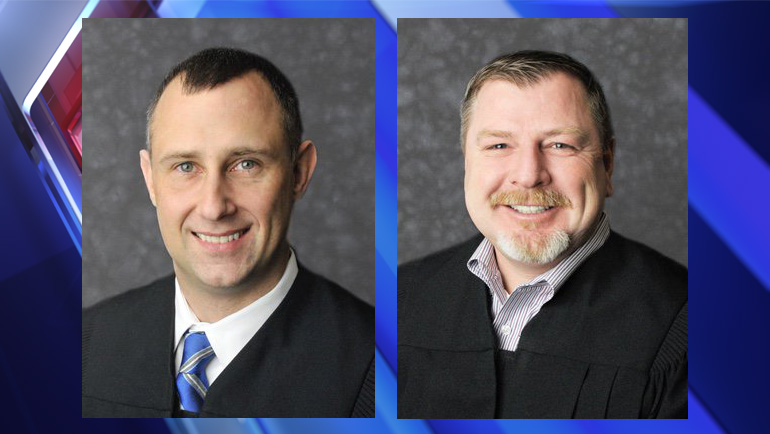 IMPD'S chief believes two unidentified suspects are responsible for the violence.
"They engaged in some sort of confrontation and two judges got shot so we're still working through that. We're getting a lot of tips. Investigators feel comfortable they'll be able to resolve that," said IMPD chief Bryan Roach.
Detectives do not have information to believe this incident was related to their judicial duties.
"Any incident of gun violence is unacceptable and we are profoundly concerned with the safety of people on the east side, west side and obviously downtown," said Indianapolis mayor Joe Hogsett.
The violence at White Castle was the first of three shooting in four hours that left five people hurt. The cases aren't connected, but chief Roach says they do share some underlying issues that fuel so much of the city's crime.
"It's people and places and conflicts and the inability to resolve those conflicts without going to guns so quickly," said Roach.
"I think IMPD is responding appropriately. We're doing what we can to make sure the level of gun violence is reduced," said Hogsett.
The Indiana Supreme Court released the following statement about the shootings:
"Two Clark County judicial officers attending an educational conference in Indianapolis were the victims of a shooting overnight. The judges are the Honorable Andrew Adams and the Honorable Bradley Jacobs, both have served the judicial branch since their election in 2014. Judge Jacobs is in critical and stable condition. Judge Adams is in stable condition.

"Chief Justice Loretta Rush has visited with both judges and their families and expressed the support of the entire judicial branch, she said "Our judges across the state are heartbroken to learn of this violent act against our colleagues. We send our prayers for a speedy recovery for both Judge Jacobs and Judge Adams and our love and support to their families and the Clark County community."
Clark County courts released this statement:
"Clark County Presiding Judge Vicki Carmichael is shocked to learn of the overnight violence involving her fellow judges. Along with her colleagues, she is in Indianapolis attending educational programming.

"Any questions about the nature of the shooting should be directed to police. However, Judge Carmichael has been assured that there is no reason to believe the judicial officers were targeted because of their positions with the Judicial Branch. This appears to be a random act of violence.

"It is important for detectives to investigate the situation; therefore, Judge Carmichael will not be making any statements regarding the particulars of the event. However, Judge Carmichael has spoken with fellow judges who were with Judge Adams and Judge Jacobs and she been advised certain reports circulating about the event are inaccurate. She urges caution until police provide details and/or make an arrest. Judge Carmichael appreciates the outpouring of support and love from the members of the Clark County community.

"Clark County courts are closed today but will reopen tomorrow."
Indiana State Bar Association President J. Todd Spurgeon also weighed in:
"I am saddened to hear the terrible news that two Judges were victims of a shooting overnight. I have appeared before these judges many times, and count them among my friends in this community. Although our justice system is generally adversarial by nature, we are one legal community, and at times like this we come together to lift up our colleagues and their families. Personally, and on behalf of the Indiana State Bar Association, I offer our heartfelt support and prayers for the judges' recovery."
Editor's note: Police previously told us the argument started at a nearby bar and continued to the White Castle parking lot. However, they retracted that statement.