This is an archived article and the information in the article may be outdated. Please look at the time stamp on the story to see when it was last updated.
INDIANAPOLIS, Ind. — Indianapolis Metropolitan police are investigating a shooting that killed a 1-year-old girl and wounded a 19-year-old woman on the east side.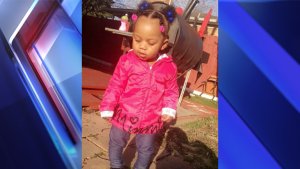 Investigators were called to a residence in the 3500 block of N. Wittfield St. around 2 a.m. Thursday, where they found two gunshot victims: a 19-year-old female, and a 1-year-old Malaysia Robson. The two victims were found in the front part of the house, according to police. The 19-year-old was shot in the shoulder.
Investigators believe the two were hit in an apparent drive-by shooting that police say is likely an isolated incident. Police believe the teen is the child's aunt. Family members gave FOX59permission to post this emotional tribute video:
Police say witness interviews indicate this was part of a dispute that started on social media. That dispute led to a large fight on the east side Wednesday night at an apartment complex. The group kept fighting on the phone and online, and eventually shots were fired into the home.
Sgt. Chris Wilburn with IMPD struggled to contain his emotions while discussing the case with reporters Thursday morning.
"I want people to really, really sit and realize where we are. A 1-year-old baby girl lost her life this morning, senselessly. And if that doesn't move you to action, I don't know what can," he said.
"An individual got into whatever mindset and thought it appropriate to fire into a home and target whomever, but a baby girl died this morning," Wilburn said.
"I apologize for being so raw, but that's where we are this morning. This is a raw scene," he said. "This is a raw and emotional outpouring of hurt from your police department and first responders."
Nine people were inside the residence at the time of the shooting, according to investigators. Most were family members who lived there, but a few may have been guests. The majority of them were in the front room when the shooting happened. One of the people inside was a 4-month-old child.
Wilburn said anyone harboring or protecting the person responsible for the shooting is just as much at fault.
"If you know something, if you have any information, it's tough, then call us," Wilburn said. "If you have any information or harbor the person responsible for this, then you are subject to the same response for this and you think it's OK to harbor that person, then you can expect that same response from us."
Thursday afternoon, Indianapolis Mayor Joe Hogsett spoke about the impact such a shooting has on the city.
"A 1-year-old cannot stand on her own, much less defend herself. A 1-year-old cannot form sentences or speak out against the mindless menace of gun violence in her community, but we can stand we can speak. And if we don't, no one will," he said.
Hogsett said the person responsible for this shooting will face the full weight of IMPD and the Marion County Prosecutor's office, but he said that's not enough.
"If our hope is to truly end the senseless slaughter, if we want to give meaning to the lives we've lost, if we pray for peace for just one more month, for just one more week, for just one more day, then we must also be honest with ourselves," he said. "I know that our country is mourning and awaking in in the aftermath of horrifying acts of gun violence. But despite the disagreement and rage over those policies, there is not one doubt in my mind that the people of Indy are united in condemning illegal gun violence.
"Today, right here in Indy, we are confronted with the worst form of such gun violence. An innocent child was robbed of her dreams and the city is robbed of its future."
Hogsett said too many young people have access to illegal guns and others stay silent about it.
"We must have the courage to speak, to each other, to a pastor, to a police officer. We must come together and unite for peace," he said.
Detectives have several leads and continue to look for evidence and witnesses. Anyone with information should call Crime Stoppers at (317) 262-TIPS.