This is an archived article and the information in the article may be outdated. Please look at the time stamp on the story to see when it was last updated.
Clear overhead but clouds are inbound Friday night and a few sprinkles will develop around 12 AM.  Forecast radar image for midnight.
Friday was the 4th straight day above normal – in a season that has not produced many warmer than normal days. It was only 25th day this "winter" above.  69% of the days since December 1st have been colder than normal. (The winter months) The recent warm up has little impact on the overall average temperature for the season.  Winter 2013-2014 is still among the coldest 5% on record.  Currently ranks 8th coldest overall with average temp of 24.1°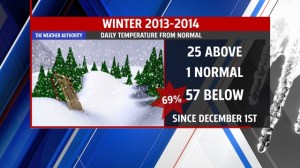 We will cram to seasons into one weekend – Saturday: mild before a front settles in  then Colder Sunday – with snow. There is a large temperature spread potentially Saturday with milder 50s form the city south.  As a cold front settles in later in the day temperatures will slide. In the colder air Sunday as an upper level jet stream "wave" or disturbance could squeak out some accumulating snow. A narrow band of 1″ to poss 3″ setting up in central Indiana.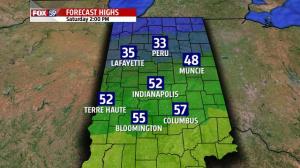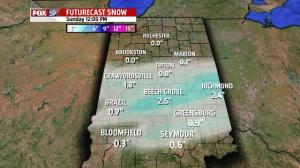 The thaw was nice and predicted but so was the return to the dominate cold pattern of the winter weeks ago. Back to the deep freeze next week and well into March. Euro weather map Wednesday shows big cold surge and here is a breakout of 2.5 week high temps from avg. Plenty of winter still to come well into March.