This is an archived article and the information in the article may be outdated. Please look at the time stamp on the story to see when it was last updated.
UPDATE:
Kameron Joyner pleaded guilty to three murder counts and was sentenced to 200 years in prison.
ORIGINAL STORY:
FT. WAYNE, Ind.-- Police arrested a suspect in connection with a Thanksgiving shooting in Ft. Wayne that left three dead and two others wounded.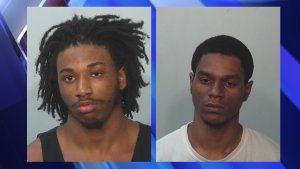 It happened around 10:30 p.m. Thursday on Downington Drive, near the Towles Intermediate School.
Two men and two women died, and two other males were hospitalized in critical condition. Four victims were found inside the home, and the other was outside.
On Friday, police arrested Kaneron Joyner, 22, after a traffic stop. He faces five preliminary counts of aggravated battery, according to WANE.
Officers are searching for a second suspect, 22-year-old Gerald Pinkston, in connection with the deadly shooting. Anyone who knows of his whereabouts should call 911. Consider him armed and dangerous.