This is an archived article and the information in the article may be outdated. Please look at the time stamp on the story to see when it was last updated.
CHICAGO — Four people accused of torturing a mentally disabled man in Chicago were charged with a hate crime on Thursday, according to WGN.
The disturbing 30-minute video shows a man tied up and his mouth covered, cowering in the corner of room. His attackers laugh and shout "f*ck Donald Trump" and "f*ck white people" as they kick and punch him and and cut into his forehead with a knife.
The attack was streamed live on Facebook.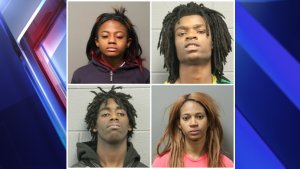 Jordan Hill, 18, Tesfaye Cooper, 18, Brittany Covington, 18, and Tanishia Covinton, 24, all face hate crime and aggravated kidnapping charges in addition to other related charges.
Chicago Police Superintendent Eddie Johnson said the video shows a "brutal act toward an adult male with mental health challenges."
Police say officers observed a disoriented male in "distress" walking in the 3400 block of West Lexington Wednesday around 5:30 p.m., according to WGN. After speaking to the victim, the officers then responded to a home nearby. There, they discovered "signs of a struggle and damage to property." Police say the officers connected this evidence to the disoriented male.
The victim was taken to the hospital and is in stable condition.
"Officers later became aware of a social media video depicting a battery of an adult male which is believed to be the same individual," police said in a statement.
Regarding the disturbing video that surfaced on social media of a battery: Incident is under investigation/suspects are being questioned pic.twitter.com/GGi3qs9rGv

— Chicago Police (@Chicago_Police) January 4, 2017
Earlier Thursday, Chicago Police Department spokesman Anthony Guglielmi said that the four black suspects made "terrible racist statements" during the assault but that police believe the victim was targeted because he has "special needs," not because of his race.
The investigation is ongoing.