This is an archived article and the information in the article may be outdated. Please look at the time stamp on the story to see when it was last updated.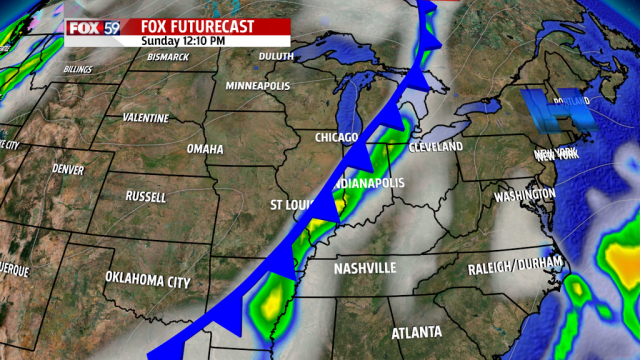 Here comes the rain.  For the next 7 days here in Central Indiana we will have two good shots for rain with isolated showers possible on a few more days.  Should be a welcome change from the fairly dry pattern we have been stuck in for the past two months.
Today is going to be dry and nice.  Expect a high near 84 degrees.  Clouds will begin to slide in this afternoon and we should be looking at overcast skies by the time the sun goes down.  Tonight will be dry but rain for Indianapolis could arrive as early as 6am.  I think it holds off until the 8am hour.  A steady rain will last four hours or so with scattered showers behind the main line that could last through Monday morning.  Rain totals on average will be less than a half inch but more than a quarter of an inch.  Sunday highs will be in the mid-70s.
Most will be dry on Monday with a warm front arriving on Tuesday.  Expect a high of 76 for Monday.  Expect  temperatures in the 80s for Tuesday and Wednesday.  The next round of rain will arrive on Thursday morning and will last into Friday with the arrival of a cold front.  Thunderstorms will be possible on Friday.  Rain and clouds will push highs near 80 for Thursday and into the mid-70s for Friday