This is an archived article and the information in the article may be outdated. Please look at the time stamp on the story to see when it was last updated.
More snow expected today but really this event will be wrapping up as we head into the afternoon today.  Winter storm warning have been issued for big part of the state through 6pm due to significant snow expected.  At this point it looks like snow totals overall will come in light of the possible 6 plus inches of snow we initially thought possible.  One of the reasons for that is the potential for snow changing over to rain or slush during the afternoon hours as our temps warm up.  As of 7am this morning the airport had received 2 inches of snow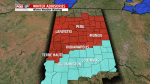 exactly and at this point it looks like they will struggle to get to 3 inches of snow total for the entire event.  Places north will see higher totals.
Snow wraps up by 4pm today here in the city with flurries possible through Sunday.  No significant accumulations are expected for this afternoon.  Another arctic chill arrives overnight tonight.  Lows will fall to the teens with highs in only the mid-20s.  A slow warm-up will occur after we bottom out on Monday with highs in the upper 40s late Thursday and Friday morning.  There will be a chance for light snow on Tuesday and a chance for rain on Thursday night into Friday.