This is an archived article and the information in the article may be outdated. Please look at the time stamp on the story to see when it was last updated.
INDIANAPOLIS, Ind. – The oldest park in Indianapolis is hoping to become the city's next major venue after hosting a music festival last month.
Garfield Park has entertained Hoosiers since 1889, but Indy Parks has big plans for establishing the historic space as a can't miss space for music.
"We want summer to be to synonymous with Garfield Park," Chief Communications Officer Ronnetta Spalding said.
The park has had a long-running free summer concert series that's brought in a steady stream of patrons, but a few years ago, Indy Parks partnered with local concert promoters MOKB to bring bigger acts to the park.
The type of shows feature bigger indie rock bands and as a result, Indy Parks say they've seen a lot more millennials and young professionals inside Garfield Park.
Last month, MOKB brought in arguably the biggest artist to play the park since The Who graced MacAllister's stage in the 70's – Father John Misty.
"There were so many millennials, younger people at Father John Misty and that's good for the park," said Production Art Manager George Benn.
Young people continued to roll in for Holler on the Hill the following two days. In total, 4,000 Hoosiers enjoyed the inaugural music fest assembled by MOKB.
Off one of the best songs of the year, St. Paul and the Broken Bones headlined along with Blitzen Trapper and Moon Taxi.
The energy and number of attendees were something not only Indy Parks and MOKB were watching with wide eyes, but also the Indy Chamber of Commerce.
Indianapolis plans to use music to generate economic development 
In May, a unique community forum called "Music Cities" was held at the Hi-Fi in Fountain Square. The goal of the day was for key decision makers around town to learn how other communities such as Denver, Austin, Atlanta and London are using music to drive up their local economies.
25 speakers took part in panels and presentations on; Needs and challenges of local artist communities, the role music plays in economic development, why Indianapolis needs a music strategy and more.
"The music economy is growing rapidly in Indianapolis and it's important to learn from the success of others," said Michael Huber, CEO of Indy Chamber. "Indianapolis needs to do a better job of telling its music story – from the jazz scene of the early and mid-20th century to its current hip hope scene. We also need to do a better job of connecting things – the pieces of who we already are – to difference industries."
Many key attendees around Indianapolis were impressed enough to move forward with action.
In August, the mayor's office and the Indy Chamber of Commerce decided to move forward with developing Indianapolis as a music city.
As part of Mayor Hogsett's "Create Indy" plan, the city will award grants to individuals and organizations in Marion County that focus on cultural and artistic development. The first round of grant awards will total $50,000.
They reportedly have a contract in place with UK-based Sound Diplomacy, the firm who put on the Music Cities forum.
The chamber says initial planning discussions have been centered around grant-making and other financial incentives to attract more artists and concerts to Indianapolis.
There are still roadblocks in the way until Indianapolis can ever proposition itself with the likes of Austin and Seattle.
Have you ever been upset when one of your favorite bands bypasses Indy for Columbus, Detroit, and other Midwestern cities? MOKB told us some artists that skip the Circle City on tour is generally due to one factor; a lack of all-ages venues.
"It has to do with money and timing, a band touring all-ages venues typically will not add a 21 plus venue just to come here," MOKB owner Josh Baker said. "I've had artists who are not 21 yet have to directly leave the stage after a set due to the rules."
With more major shows at Garfield Park aimed at the future, it can help alleviate a problem the Circle City has had booking artists.
Future of Garfield Park as a major music venue looks bright
While it's too early to speculate if Indy Parks will receive any grant money, George Benn said told us, "I assume that (grant money) will find us as we are more and more active."
Benn admitted while he typically focuses on the free summer concert series, bigger bands with a larger price tag have brought in Hoosiers who typically would not visit the park otherwise.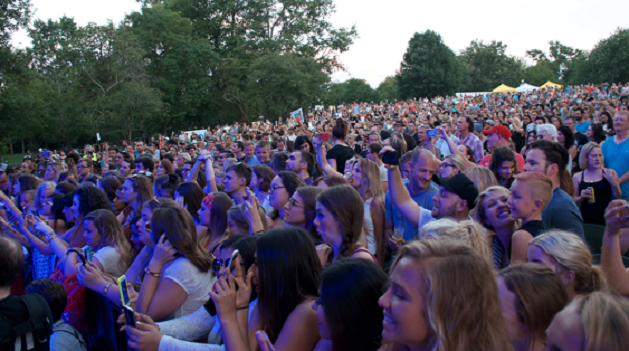 "These new shows have been attended by a lot of people, anyone that has that type of audience (referring to Father John Misty) is who we may direct funds towards in the future."
Garfield Park and MOKB didn't just stop with Father John Misty into Holler on the Hill. Last weekend, The Revivalists and Børns rocked MacAllister Amphitheater.
As a result of the big month, around 10,000 Hoosiers visited Garfield Park for Holler and the Hill and the three major shows that surrounded it. Indy Parks told us booking  and music promotion agencies from around the country have taken notice.
Holler on the Hill will be back in 2019, with the summer paid concert lineup still yet to be fully crafted.
"We had 60 different acts this year, we believe it's time to put a spotlight on Garfield Park," Spalding told us.
With the momentum behind Music Cities backed by city hall, it's safe to say the time is soon for Garfield Park to be known as a major music venue.
To learn more about the park and donate, click here.