This is an archived article and the information in the article may be outdated. Please look at the time stamp on the story to see when it was last updated.
INDIANAPOLIS (November 6, 2015) – All lanes of I-65 were closed near the I-70 north split for several hours after a semi crashed early Friday morning.
The crash happened just after midnight, but INDOT had to shut down the interstate for several hours to clear the crash scene and inspect the area. A semi hit a barrier wall, prompting crews to install a temporary rail.
The ramp from I-70 westbound to Ohio St./Fletcher Ave. was also closed. Police say concrete from the overpass fell onto the ramp during the crash, and the road had to be closed so crews could clean up. A bridge inspector said the bridge was safe, adding that there was no concern about concrete falling from I-65 to I-70 below.
I-70 westbound reopened around 5:50 a.m. I-65 reopened shortly after 6:20 a.m.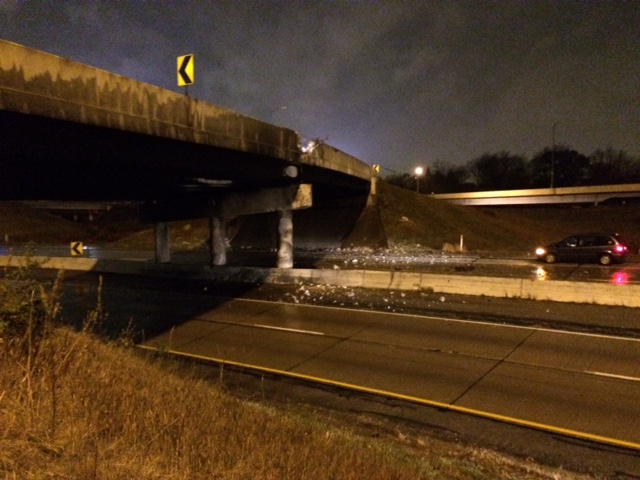 The crash is one of three major interstate issues around central Indiana Friday morning.
In Decatur County, a semi overturned near Greensburg around 3:30 a.m. on I-74 eastbound, closing the interstate from mile marker 134 to the 142 mile marker.
In Hendricks County, an overturned semi closed part of I-70 westbound. The crash happened around 1 a.m. near State Road 267. As of 5:30 a.m., the crash scene had been cleared and traffic was moving through once again.