This is an archived article and the information in the article may be outdated. Please look at the time stamp on the story to see when it was last updated.
Video courtesy of Jim Saviano.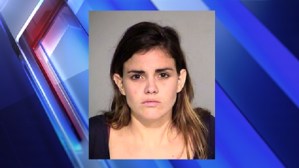 UPDATE (Sept. 15, 2015)-- Police have identified the woman, whose behavior caused a flight to be diverted to Indianapolis.  The woman was identified as 25-year-old Daniela Valez-Reyes. She was held in the Marion County Sheriff's Department overnight on charges of disrupting the operation of an aircraft, resisting law enforcement, disorderly conduct, criminal recklessness, battery with moderate bodily injury, battery and battery against a public safety officer.  She has not been officially charged at this time.
INDIANAPOLIS, Ind. (Sept. 14, 2015)-- American Airlines flight 1284 from Miami to Chicago was temporarily diverted to Indianapolis Monday.
Officials say a woman became unruly and belligerent near the Indiana/Kentucky border. The flight crew tried to calm her down, but said she continued to be aggressive and reportedly struck a passenger and flight crew member.
No injuries have been reported. The FBI was called to the American Airlines gate and the passenger was removed from the plane. While exiting the plane, she allegedly struck airport authorities.
The flight, delayed for about an hour and a half, resumed after the passenger was removed. It is unclear what provoked the suspect's actions.
She faces charges of battery with injury to a person, battery with no injury to a person, battery with injury to a safety officer, criminal recklessness and disruption of a flight.