This is an archived article and the information in the article may be outdated. Please look at the time stamp on the story to see when it was last updated.
ANDERSON, Ind. – An Anderson mother claims a local pet store didn't allow her 3-year-old daughter with autism to bring her service dog inside.
Nicole Wisler says it happened at Night Stalkers Pet Emporium about a month ago, but the pet store claims the situation never happened.
Wisler says her daughter Lele needs their golden doodle Scooby as a service animal because she has autism.
"In a meltdown, I'll say go get Lele. He'll lick her face and that will calm her down," said Wisler.
Wisley said they take Scooby everywhere they can, but said that became a problem when they stopped by the pet store. She said they opened the door and an employee told them the service dog could not come inside.
"I was mad because the dog is there to help my daughter so that she can be more independent," she said.
Stacie Miller is a sales clerk at Night Stalkers Pet Emporium. She said she works every day from open to close and this incident didn't happen.
"I feel bad if that would have happened but it didn't happen here. We did not do that," said Miller.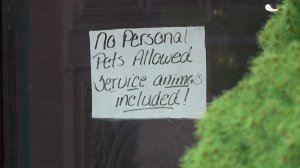 But, Miller says they put up a sign saying "No personal pets allowed, service animals included" a few weeks ago and that the policy is there to protect their animals in the store. They feel some customers are bringing in pets and pretending they are service animals.
"We have had a couple people come in just bringing personal dogs with their vests on them that terrorized our animals and ran around," said Miller.
Sean Diamond, Director of Training for Indiana Canine Assistance Network, said the store is allowed to ask the dog to leave if the pet is not acting appropriately. Night Stalkers Pet Emporium said it wants owners to provide documentation for their service animals. However, according to the Americans with Disabilities Act, the store can't do that.
The ADA says staff may ask two questions: (1) is the dog a service animal required because of a disability? And (2) what work or task has the dog been trained to perform? Staff cannot ask about the person's disability, require medical documentation, require a special identification card or training documentation for the dog, or ask that the dog demonstrate its ability to perform the work or task.
Miller said Scooby would have been allowed inside. Wisler is still calling for change. She said she has filed a complaint.
According to state law, a person who knowingly or intentionally interferes with the actions of a service animal commits a class A misdemeanor.