This is an archived article and the information in the article may be outdated. Please look at the time stamp on the story to see when it was last updated.
ANDERSON – A man convicted of shooting and killing an Anderson Police Department K-9 learned his punishment Tuesday.
Joseph Turner was sentenced to 12 years and six more suspended for shooting the dog, Magnum, in August 2012 after robbing a PNC Bank.
Magnum's handler, Officer Matt Jarrett, delivered an emotional statement in court, recalling the impact Magnum's death had on him and his family. Jarrett said his partner's death traumatized him and gave his children nightmares as they worried their father wouldn't come home from work one day.
Bank teller Carol Anderson took the stand to talk about the surreal moments surrounding the robbery and what it was like when Turner held her at gunpoint.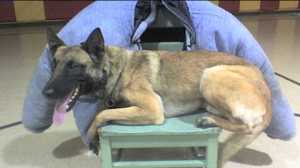 Turner spoke to a courtroom filled with police officers, saying, "I'm sorry. I was messed up. I shouldn't have done what I did."
He spoke of his service in Iraq and described his struggles with substance abuse. Turner said he was demoted because he'd become addicted to Nyquil. He said he'd sought help at the VA, but was denied. Turner claimed he had troubles with post-traumatic stress disorder and addiction. He admitted he was on Xanax, marijuana and tequila during the robbery and shooting.
As a condition of Turner's plea deal, he must lead investigators to the spot where he hid his weapon. Police have not recovered it, accusing Turner of using it as a "bargaining chip" for a plea deal.
Since it happened, officers have called for a change in the law.
"We want justice served," said Anderson Police Chief Larry Crenshaw.  "We want awareness that police dogs are police officers."
Crenshaw and Det. Joel Sandefur both told Fox59 News that the past several months have been difficult for the department.  Two weeks before Magnum's death, Anderson police lost another K-9 unit during an incident in Pendleton, cutting the city's K-9 force in half.
"We know what they are. They are a tool. But they also are our friends, our partners, they're our pets," Sandefur said.
Sandefur said the dogs cost approximately $15,000 each, one of the reasons Anderson has replaced only one of its two fallen dogs since the summer incidents.  Another reason is the extensive time and training required to forming a functional bond between the officer and the K-9.
"There should be some responsibility on the part of the offender when convicted that they replace that cost to the city," he said.
A bill in the state House of Representatives would, for the first time, allow police departments to seek restitution for their lost investment in community safety.