This is an archived article and the information in the article may be outdated. Please look at the time stamp on the story to see when it was last updated.
ANDERSON, Ind (May 15,2015)-- An Anderson woman was forced to protect herself with a knife after her naked son allegedly attacked her Friday morning. Police responded to a disturbance at a home on the 700 block of Heritage Lane between Debra Hester and her son Marvin Hester.
"The police are always over there," said neighbor Mike Gossett.
"The problems with that guy are just too much to handle. He's got to go," said another neighbor.
Neighbors called police with reports of someone with a knife. It was later determined that Debra had a knife in her hand to protect herself from her violent son--who was not wearing anything.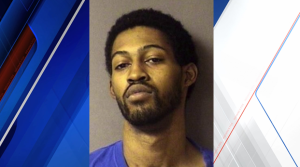 At one point, Marvin allegedly grabbed a metal pole and returned to the house. However, Hester's uncle was able to take the makeshift weapon away. Once officers arrived, Hester reportedly resisted arrest and refused to cover himself up.
FOX59 spoke with the Hester family about the incident.
"It was just a family dispute," said Debra.
"It was trivial and then it exploded," said a man who identified himself as "Mr. Hester."
According to police reports, the Anderson Police Department was at the Hester household the night before for a similar disturbance.
"When the police come to arrest him, he fights the police, he don't care. He just needs some kind of help and he isn't getting it over there," said a neighbor.
Hours after Hester was taken into custody, he allegedly continued to be combative with officers in the Madison County jail.
"He's always just confrontational with everybody for no reason. Nobody has ever had issues with him and then boom out of nowhere he's going crazy on people," a neighbor said.
"I've been told not to let the children go in that yard because he will chase them out of the yard, so I keep my grandson and my little ones out of there as much as I can," said neighbor Theressa Higgins.
Hester is preliminary charged with battery and resisting law enforcement. Police say he spit at his mother and bit her several times on the hand.