This is an archived article and the information in the article may be outdated. Please look at the time stamp on the story to see when it was last updated.
Central Indiana will once again see hot and humid conditions during the afternoon hours.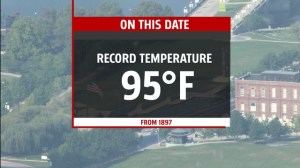 We will be very close to the record temperature as well!  The record for this date is 95°F from 1897.   We will also see the chance for some isolated showers and thunderstorms this afternoon due to the high heat.  It looks like our best time to start seeing storms is closer to 2 PM.  This would mainly be in southern Indiana and then spreading farther to the north later into the afternoon.  The set up is just like Tuesday afternoon so once again we will not have a guarantee for storms.   But any of the storms that do pop up will have plenty of moisture and energy to work with.  This would produce heavy downpours, brief gusty winds and even small hail.  We shouldn't see widespread severe weather issues but an isolated stronger cell cannot be ruled out.
There is some good news on the heat… it's OVER tonight!  Temperatures will drastically change over the next 48 hours.  We will only top out around 80°F on Thursday afternoon and closer to the low 70s on Friday.  A cold front will be passing during the day on Thursday and this will move out this hot and humid air mass.  Behind it will be a cool, refreshing taste of fall for Central Indiana for several days.