This is an archived article and the information in the article may be outdated. Please look at the time stamp on the story to see when it was last updated.
SHOWERS ON THE WAY
A storm system will generate showers and possibly a rumble or two of thunder later tonight and into the early morning hours Tuesday.  In the warm sector of the storm – temperature rose to 66° Monday, warmest here in a week and a half.  A cold front will pass the state predawn Tuesday bringing an end to the rain threat.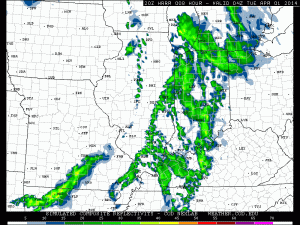 HEAVY RAIN MIDWEEK
The same front that passes early Tuesday will stall and slowly return Wednesday and Thursday.  The slow movement north of this front will set the stage for an extended spell of wet weather.  Occasional showers and thundery downpours are likely through Friday morning.  As first forecast last week, heavy rainfall totals are possible.  The latest rainfall numbers are coming in on 1.50" to 4"  amounts – most potentially here since December 21st and 22nd when 3.39" of rain fell over that 2 day period.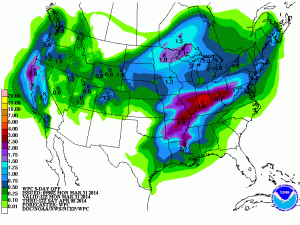 MARCH 2014 COLD
68% of the days in March averaged below normal – and March 2014 preliminary ranks 13th coldest all-time with an average temperature of 35.2°.  It is the second straight March cooler than normal and since the warmest March ever in 2012.  March continues the streak of below normal months at number 6.