This is an archived article and the information in the article may be outdated. Please look at the time stamp on the story to see when it was last updated.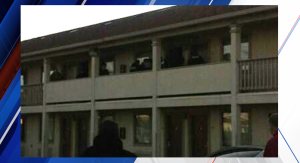 GREENWOOD, Ind. (Feb. 3, 2015)– A fugitive was arrested Tuesday in a multi-agency drug bust.
The arrest occurred at the Red Roof Inn on Main Street in Greenwood near I-65 Tuesday afternoon. Authorities seized cars, multiple kilos of cocaine and at least $1 million in cash. The amount of cash seized may increase as investigators continue to count it.
Dewayne L. Lewis, 40, was taken into custody during the raid, after police obtained a search warrant for room 211. Lewis is currently being held on a charge of dealing cocaine.
The Johnson County Prosecutor's Office, Indiana State Police and the U.S. Marshals Service were involved in addition to other agencies. This investigation is ongoing.
Hotel guests FOX59 spoke with said it made for a frightening afternoon.
"I was taking some things up to my room, back and forth, and I asked the officer if I should maybe clear out. And he's like, 'Yeah, that might be a good idea,'" said Rich Dickerson, a witness.
Dickerson watched the raid go down from a White Castle next door.
"They got to the door, knocked on it, knocked it out, stormed in," he said, "It took a while, a lot of commotion, then the drug dogs came in, and they brought out the guy, the suspect in handcuffs. They were there, in the room, for a good two hours," he said.
Even by 7 p.m. on Tuesday night, authorities were still on scene.
Dickerson hopes Tuesday night's a bit calmer than the afternoon.
"I was actually legitimately scared of the situation," he said.