This is an archived article and the information in the article may be outdated. Please look at the time stamp on the story to see when it was last updated.
UPDATE: Britni Wihebrink was sentenced to 30 years after pleading guilty to neglect of a dependent causing death.
DALEVILLE, Ind. – The mother of a 2-year-old Daleville boy who died after being found inside a car has been arrested.
Police confirm 28-year-old Britni Wihebrink is charged with neglect of a dependent resulting in death. She was arrested Thursday morning at 1 a.m. She is being held in the Delaware County Jail without bond.
The coroner confirms the death of Jaxon Stults appears to be heat-related.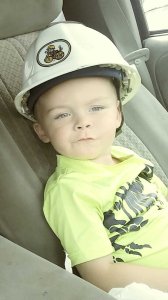 Police were called to Salem Place Apartments around 6:45 p.m. on Wednesday about the incident.
According to court documents, Wihebrink said in an interview with police she was off work on Wednesday and started drinking around 11 a.m. She said she has two wine coolers and three or four Jim Beam Honey shooters. She said she may have had more to drink, but she couldn't remember. She admitted to having a "bad drinking problem."
She said she started drinking to help her hangover from the night before, and she did not remember a lot of the events that occurred that day. Police found seven empty Jim Beam 50 mL bottles in the house.
Wihebrink said she laid down to take a nap with her 2-year-old around 1 p.m. or 2 p.m. That was the last time she saw Stults.
Her friend came to her apartment around 6:20 p.m., and when she got out of bed, she couldn't find her toddler.
Wihebrink's friend told police she was drunk. He said she kept repeating herself and couldn't remember anything.
Her friend's 15-year-old son found Stults lying on the back floorboard of the car. Her friend picked the child up and brought him inside.
Wihebrink called 911, and she told dispatch someone was performing CPR on her son, but he was starting to turn blue.
Medics rushed to the scene, and he was pronounced dead on the way to the hospital.
This case marks the third instance of a heat-related car death this year in Indiana.
In July, a 3-month-old boy was found dead in a car in New Albany. The boy's father said the child's mother forgot about him in the back seat.
And in June, a 3-year-old girl in Anderson died after being left inside a car for about 2 hours.
Wihebrink's next door neighbor said the mom and toddler had not been living there very long. A man who was at American Legion across the street said he ran over of Wihebrink's apartment to perform CPR on the 2-year-old.
"I've never had to do it on a young boy so it was tough," said Ron Patterson.