This is an archived article and the information in the article may be outdated. Please look at the time stamp on the story to see when it was last updated.
BOONE COUNTY, Ind. – The Boone County Prosecutor's Office has filed murder charges against two men related to the death of Deputy Jacob Pickett.
According to a probable cause affidavit filed Wednesday, John Ball, 22, allegedly provided the pistol that Anthony Baumgardt used to shoot and kill Deputy Pickett.
In addition to providing the murder weapon, Ball allegedly "fronted" methamphetamine to Baumgardt and John Baldwin Jr. to later sell.
Police were serving an arrest warrant in Lebanon when they spotted John Baldwin Jr., who was wanted on a probation violation. Police said Baumgardt and Baldwin fled in a car after being spotted.
During the pursuit, which went through many yards, stop signs and alleys, Deputy Pickett, who'd responded to assist, became the lead pursuit vehicle at the intersection of E. Fordice St. and N. Park St. It ended at the Indian Springs Apartment Complex, where police say Baldwin Jr. slowed down his silver Ford Taurus to let Baumgardt out.
Deputy Pickett, along with his K9 partner Brik, began pursuing Baumgardt on foot. Moments later, Baumgardt allegedly fired three shots, fatally wounding Pickett. Police believe Pickett was shot using a Taurus 9mm pistol that Ball provided.
Baldwin Jr. has been charged with murder for allegedly driving the getaway vehicle from Ball's residence. After letting Baumgardt out at Indian Springs Apartment Complex, he continued to be pursued by police. He eventually was taken into custody after being stopped on I-65.
At the hospital, authorities reportedly found meth and marijuana in his boxers. In addition to murder, Baldwin Jr. also faces charges of conspiracy to commit dealing in meth, dealing in meth, two counts of possession of meth, two counts of resisting law enforcement, two counts of leaving the scene of an accident and possession of marijuana.
In addition to murder, Ball is charged with dealing meth, possession of meth, maintaining a common nuisance, unlawful possession of syringe and possession of paraphernalia.
Detectives were reportedly tipped off that Ball allegedly provided the pistol to Baumgardt by an informant.  They said Ball received the gun from trading methamphetamine for it.
Documents state he also made a fake Facebook page and told the informant on Facebook messenger, "Bum had already had his mind made up that he was gonna shoot him no matter what, none of us could have prevented it bub."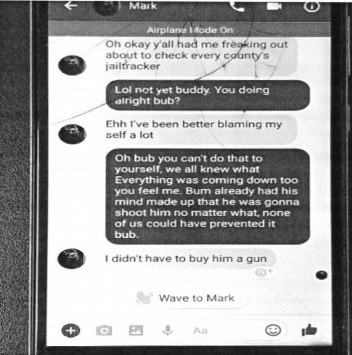 Baumgardt remains behind bars for the murder of Deputy Pickett. Prosecutors have requested the death penalty in Baumgardt's case.
Boone County Sheriff Mike Nielsen sent the following statement regarding the arrests of Ball and Baldwin Jr.
"Today, we are one step closer to seeing total justice for Jake. Many dedicated hours have been spent on this investigation by several agencies. I want to thank them and the prosecutor's office for their hard work. I personally read the murder warrant to John Ball tonight and will read the murder warrant tomorrow to John Baldwin, Jr. The investigation will continue until justice is served for Jake."