This is an archived article and the information in the article may be outdated. Please look at the time stamp on the story to see when it was last updated.
BRANSON, Mo. – Authorities have identified the 17 people killed in Thursday's duck boat accident in Branson, Missouri.
Among the deceased are nine family members from the Indianapolis area, including four children.
45-year-old Angela Coleman
1-year-old Arya Coleman
69-year-old Belinda Coleman
76-year-old Ervin Coleman
7-year-old Evan Coleman
40-year-old Glenn Coleman
70-year-old Horace Coleman
2-year-old Maxwelll Coleman
9-year-old Reece Coleman
Two other relatives aboard the boat survived, Tia Coleman and her nephew, who has not yet been identified.
The Colemans were on a family vacation when they boarded the amphibious tour boat that went down in about 40 feet of water during rough weather at Table Rock Lake.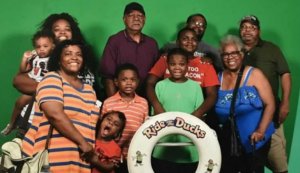 The Indiana family likely wouldn't have been on the ill-fated trip but for a ticket mix-up. Tracy Beck, of Kansas City, Missouri, said she recalled the family members waiting in line. After they stopped for a picture, she said, a ticket taker realized they should have boarded at a different location and reassigned them.
When FOX59 spoke with Tia on the phone on Friday, she said the captain of the vessel told her family not to worry about grabbing life jackets.
"My husband would want me to say this – he would want the world to know that on this boat we were on, the captain had told us 'don't worry about grabbing the life jackets – you won't need them' so nobody grabbed them as we listened to the captain as he told us to stay seated," said Tia. "However in doing that, when it was time to grab them, it was too late and I believe that a lot of people could have been spared."
Tia works as a paralegal at the Marion County Prosecutor's Office. Officials issued this statement offering their thoughts and prayers to the Coleman family:
We are devastated by the unimaginable loss suffered by our friend and colleague Tia Coleman. The thoughts and prayers of our entire Marion County Prosecutor's Office family are with Tia, her extended family and friends, and the other survivors of this tragic incident.
Indiana Governor Eric Holcomb issued the following statement Saturday, offering his condolences to the Coleman family.
"Janet and I are stunned and heartsick over this tragedy. To lose so many loved ones in an instant is horrifying, and I cannot imagine the depth of pain the Coleman's friends and family are going through now. I ask my fellow Hoosiers to join me in offering prayers and condolences, especially for the two survivors."
A GoFundMe account has been set up to help the Coleman family lay their loved ones to rest.
The other victims killed in the accident were identified Saturday as:
69-year-old Asher Williams from Missouri
68-year-old Rosemarie Hamann from Missouri
63-year-old Janice Bright from Missouri
65-year-old William Bright from Missouri
64-year-old Leslie Dennison from Illinois
73-year-old Bob Williams from Missouri
15-year-old Lance Smith from Arkansas
53-year-old Steve Smith from Arkansas
NTSB is investigating the circumstances that led to the crash. Officials said Friday night that it may take up to a year to determine a cause.