This is an archived article and the information in the article may be outdated. Please look at the time stamp on the story to see when it was last updated.
Warning: The video above shows the moment Officer Lane Butler was shot. Viewer discretion is advised.
LAFAYETTE, Ind. – A review board has determined that an incident involving a
Lafayette officer shooting a fellow cop
was accidental, not an act of negligence. On Friday Lafayette police released dramatic body camera footage showing the shooting that left one of their officers injured this week. The wounded officer was shot in the back by a fellow officer on Tuesday.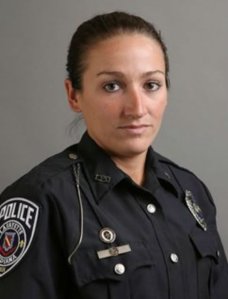 Three officers responded to an apartment searching for a suspect with a warrant.   All three were wearing body cameras. After watching those videos, the police chief says the shooting was an accident and not negligence. While searching the apartment, officer Kurt Sink instructed officer Lane Butler to keep an eye on a large caged dog.  Officer Aaron Wright then entered the apartment third and the moment he approached the dog cage, the dog knocked down the cage door. Wright quickly reached for the cage, then turned and accidentally fired a single shot.  That bullet hit officer Butler who quickly collapsed. Officer Sink's body camera shows the bullet go through the door separating Wright and Butler. "From the moment the dog began to force its way out of the cage, the officers were faced with just a few options in fractions of a second," said Lafayette police chief Patrick Flannelly. Lafayette's police chief says officer Wright never intended to pull the trigger. "When we asked him he flat out said he had no intention of shooting the dog," said Flannelly. Less than 3 minutes after being shot, officer Butler was loaded into an ambulance.  She is expected to be okay.  Officer Wright can be heard admitting to firing the shot. "Officer Wright, from the moment on scene, he took full responsibility and was devastated by the unintentional discharge of his firearm," said Flannelly. The police chief says the video proves accidents can occur in just a fraction of a second and didn't fault officer Wright for the shooting that injured his fellow officer. "This was not the result of negligence carelessness or reckless behavior.  It was accidental," said Flannelly. Officer Wright will not face any further discipline or termination, in fact he's expected to be back on active duty next week.