This is an archived article and the information in the article may be outdated. Please look at the time stamp on the story to see when it was last updated.
The body of missing 1-year-old Shaylyn Ammerman was found Thursday night.
The toddler's body was found just after 6 p.m. in a remote area located near the White River, northeast of Gosport.
An autopsy performed Friday revealed the toddler died from asphyxiation, and her death was ruled a homicide. State police said there is no known weapon connected to the case.
Kyle Parker, 22 of Spencer, was taken into custody Thursday night and is currently being held in connection with this case.
Parker's criminal history started within the last few years. His first known charges were two misdemeanor drug charges. He was accused of possession of paraphernalia and a synthetic or lookalike drug.
Months later, he was back in the court system. He was charged with criminal trespassing. A protection order was filed by his victim.
He was also picked up for possession of marijuana and illegal consumption of an alcoholic beverage.
Records indicate Parker has never been charged with a violent crime. That could change now with this case. He's being held on two counts of obstruction of justice, a count of failure to report a dead body and a count of unlawful disposition of a dead body.
State police said Parker was at the home the night before Ammerman disappeared. There are several more persons of interest in the case, and police said it is far from over.
"Let me be really frank here. Please don't feel like because we've found a body and we've made an arrest that this case is anywhere near over. This case is just getting started with more interviews, with more investigative tactics with everything that we have at our disposal we will use to bring those who are responsible for this little girl's death to justice," said ISP Sgt. Curt Durnil.
An autopsy has been scheduled for Friday.
Shortly before police confirmed the information, Shaylyn's mother Jessica Stewart told FOX59 her daughter's body had been found.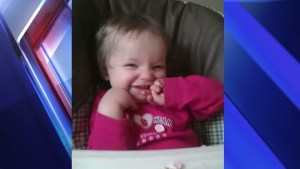 Various law enforcement agencies have been searching for the toddler since she was reported missing Wednesday morning. She was last seen at the home where her father and grandmother live, in the 400 block of West Jefferson Street in Spencer.
During a Thursday afternoon briefing, Sgt. Durnil said the massive search for the 14-month-old girl included search dogs, cadaver dogs, sonar and personnel from multiple law enforcement agencies. He also said the Federal Bureau of Investigation was involved in the case.
Shaylyn's father, Justin Ammerman, told police his mother put the child down for bed just before midnight Tuesday and when he woke up his daughter was gone.
Ammerman's brother, Adam, as well as other relatives who were in the home told FOX59 that Kyle Parker was there that night, drinking with them.
"I knew Kyle through a friend of a friend and he was supposed to be one good friend and then he turned around and does this to our family and all I can say right now is I hope he burns in hell," Adam Ammerman said.
He also said that Parker was familiar with Shaylyn.
"He knew Shaylyn, he's played with her, he's taken care of her. He rocked her to sleep," Ammerman said.
State police said family members who were also in the home have not yet been cleared and the investigation could take weeks, if not months. Anyone with information is still urged to call police with tips.
Shaylyn's uncle on Kyle Parker: "I hope he burns in hell" pic.twitter.com/jlQgzzXvAb

— Kendall Downing (@kendall_downing) March 25, 2016