This is an archived article and the information in the article may be outdated. Please look at the time stamp on the story to see when it was last updated.
BOONE COUNTY, Ind. – A Boone County deputy will not survive the injuries he sustained after getting shot in the line of duty while assisting Lebanon police Friday morning. Deputy Jacob Pickett's body is being preserved so his organs can be donated.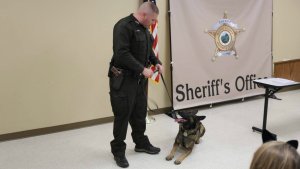 Police say all three suspects believed to be involved are in custody.
Officers with the Lebanon Police Department were serving an arrest warrant in the area of Hoosier Estates around 8:30 a.m. for Hillary Williams, who was wanted for residential entry. She was not located. While at the scene, police spotted 28-year-old John Baldwin Jr., who had warrants for two 2017 cases: auto theft and possession of syringe. Police say Baldwin Jr. and two others got into a vehicle and fled the scene.

A police pursuit ensued through Lebanon, and at some point during the pursuit, Pickett,34, got involved to assist. It turned into a foot pursuit, and he was shot. Anthony Baumgardt, 21, is the suspected shooter.
Pickett was transported to Witham Hospital, and a short time later he was flown to St. Vincent Hospital on 86th street in Indianapolis. Police say he will not survive his injuries. His life is being preserved so he can be an organ donor.
Pickett was a husband and a father of two children, ages 3 and 4. He worked for the Tipton County Sheriff's Office before he was hired in Boone County. He worked hard to become a K-9 officer and was with his K-9 Brik at the time of the shooting.
Pickett was a Brownsburg native and 2002 graduate of Brownsburg High School. He had been employed by the Boone County Sheriff's Office since July 2015. Prior to his work with BCSO, he served as a deputy for the Tipton County Sheriff's Department from November 2013 – July 2015.
Deputy Pickett also served as a jailer at the Marion County Jail from 2010 until 2013.
"It's gut wrenching. It rips all our hearts out when this happens. Our thoughts and prayers are obviously with the family and everybody but we're gonna keep working, we're gonna keep working," ISP Sgt. Perrine said.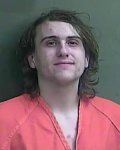 Baumgardt was shot by an officer whose name is not being released at this time. Baumgardt's injuries are not life-threatening.
There was a pursuit following the shooting. The suspect's vehicle entered the southbound ramp of I-65 and started traveling northbound. Police were able to stop the vehicle, and one suspect was taken into custody.
Dozens of cops with guns and body armor and SWAT could be seen in Lebanon on North Park Street.
Dozens of cops with guns and body armor are searching for person of interest after police say a Boone County sheriff deputy was shot after serving a warrant pic.twitter.com/SY6LAdASfb

— Alexis McAdams ABC-7 (@AlexisMcAdamsTV) March 2, 2018
Police later located a third suspect, John Baldwin Sr., when he turned himself in. According to court records, Baldwin Sr. has two prior felonies out of Boone County for theft.

Police have all three suspects believed to be involved in the shooting in custody at this time.
All city buildings in Boone County were closed on Friday following the shooting.
Several other local law enforcement agencies are sending their thoughts and prayers to Boone County.
Pickett was doing a K-9 demonstration at Boone Meadow Elementary School before the shooting. He was shot less than 10 minutes after leaving the school.
The last person killed in the line of duty from the Boone County Sheriff's Office was Sheriff John Pepper in 1935.
Indiana Governor Eric Holcomb issued this statement:
"Janet and I are stunned and heartbroken over the tragic events today in Boone County today involving Sheriff Deputy Jacob Pickett. Words cannot convey the sorrow we feel for his wife and young children as well as the entire Boone County Sheriff's Office. I ask Hoosiers around the state to join me in honoring his service and dedication."
Thoughts and prayers to our family @boonecosheriff. We here @IMPDNorth are with you.

— Joshua Barker (@JBarker2313) March 2, 2018
Very saddened to hear that @boonecosheriff Deputy has lost his life in service to his Community. Our @IFD_NEWS family is with you and the entire Law Enforcement community as we try to make sense of another senseless loss.

— Ernest V. Malone (@IFD_CHIEF) March 2, 2018
Deputy Jacob Pickett made the ultimate sacrifice for his community this morning

Rest easy sir 🇺🇸 pic.twitter.com/u4jPCv0eI3

— Sgt. John Perrine (@ISPIndianapolis) March 2, 2018
Deputy Jacob Pickett's K9 partner 'Brick' pic.twitter.com/A7UPrd4sQU

— Sgt. John Perrine (@ISPIndianapolis) March 2, 2018