This is an archived article and the information in the article may be outdated. Please look at the time stamp on the story to see when it was last updated.
INDIANAPOLIS, Ind. (December 24, 2014) – A boy with a fatal condition interviewed for his dream job Christmas Eve and on Christmas morning he found out he got the job!
Five-year-old Jordan McLinn has Duchenne Muscular Dystrophy. This is the worst type of MD, and boys with this diagnosis have a life expectancy of around 20 years.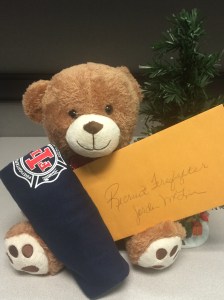 Earlier this month, Jordan's mom, Laura, wrote an email to Chief Ernest Malone. She told Chief Malone in the email that Jordan's dream job is to be a firefighter and he wants a "job" with IFD. Chief Malone emailed Laura back, and he said IFD is pleased to make Jordan's dream a reality!
At 11:00 a.m. Wednesday, Jordan arrived at IFD Station 13 for an "interview" to become an IFD firefighter. Afterwards, the department chaplain gave Jordan an early Christmas present - a firefighter's Bible.
Jordan was able to talk with the firefighters, sample some of their delicious cooking, ride on the firetrucks, check out the equipment and slide down the fire pole. He was also given a new IFD t-shirt.
On Christmas, Santa let him know that he landed the job! He will return on January 8th for some pre-recruit class training and a firefighter for a day experience.
Read the letter from IFD that Jordan received in his stocking: Honorary firefighter Jordan McLinn
Below is Jordan's resume.