This is an archived article and the information in the article may be outdated. Please look at the time stamp on the story to see when it was last updated.
TOREZ (July 18, 2014)— An Indiana University student was one of the passengers aboard a Malaysia Airlines flight that was shot down Thursday in eastern Ukraine, leaving no survivors.
IU confirmed  that Karlijn Keijzer, 25, was on the Boeing 777 carrying 295 people.  Keijzer, who was from Amsterdam, was a doctoral student in the chemistry department in the IU College of Arts and Sciences and had already earned her master's degree from the university.
"On behalf of the entire Indiana University community, I want to express my deepest sympathies to Karlijn's family and friends over her tragic death," Indiana University President Michael A. McRobbie said. "Karlijn was an outstanding student and a talented athlete, and her passing is a loss to the campus and the university. Our hearts also go out to the families of all the victims of this senseless act."
FOX59 spoke with Keijzer's friend and former roommate Rachel Weigler, who described Keijzer as a "brilliant, brilliant girl."
"There are not many people like Karlijn on this planet, said Weigler.
"There are so many people here missing her."
Keijzer was a member of the IU's women's varsity rowing team during the 2011 season, helping them to a 14-5 record. She earned Collegiate Rowing Coaches Association (CRCA) Scholar-Athlete honors as well as Academic All-Big Ten accolades following the 2011 season. A decorated junior rower, Keijzer participated in the European Rowing Junior Championships in 2006 and the World Rowing Junior Championships in 2007.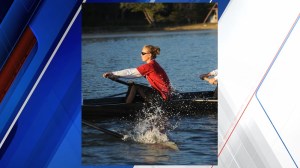 "The Indiana Rowing family is deeply saddened by the news of Karlijn's sudden passing," Indiana head rowing coach Steve Peterson said. "She came to us for one year as a graduate student and truly wanted to pursue rowing. That year was the first year we really started to make a mark with the First Varsity 8 boat and she was a huge reason for it. She was a phenomenal student and loved IU so much that she stayed here after she earned her master's degree. Our condolences go out to her family and friends in this very tough time."
MH17
The plane went down near the town of Torez in the Donetsk region of eastern Ukraine, according to a Facebook post from a top Ukrainian official, as it flew at about 10,000 meters (nearly 33,000 feet) on the way from Amsterdam to Malaysia.
Friday, a preliminary classified U.S. intelligence analysis has concluded that the missile that hit Flight 17 most likely was fired by pro-Russian separatists inside eastern Ukraine, according to a U.S. defense official with direct access to the latest information.
The official declined to be identified because of the sensitivity of the information.
Earlier, a senior U.S. official said the United States concluded that a missile shot down the plane.
"Terrorists have killed almost 300 persons with one shot," Ukrainian President Petro Poroshenko said Thursday. "Among them are women, children, citizens of different countries of the world."
'Blown out of the sky'
Leaders and diplomats from around the world are pleading for investigators' access to the disputed region.
U.S. Vice President Joe Biden said Ukraine's President had accepted an offer of U.S. experts to help investigate the crash.
The plane was apparently shot down,"not an accident, blown out of the sky," Biden said Thursday.
"It is critical that there be a full, credible, and unimpeded international investigation as quickly as possible," the White House said in a statement.
The Obama administration believes Ukraine did not have the capability in the region — let alone the motivation — to shoot down the plane, a U.S. official told CNN's Jake Tapper.
But the White House placed some blame on Russia and warned that evidence must not be tampered with.
"While we do not yet have all the facts, we do know that this incident occurred in the context of a crisis in Ukraine that is fueled by Russian support for the separatists, including through arms, materiel and training," it said in a statement.
But defense expert and retired Brig. Gen. Kevin Ryan said Ukraine and Russia both have the missile capability to shoot down such an aircraft at such an altitude.
Who was on the plane?
The 15 crew members on Malaysia Airlines Flight 17 were all Malaysian nationals, officials said.
Malaysia Airlines also gave a breakdown of the known nationalities of the 283 passengers: 154 were Dutch, 28 were Australian, 28 were Malaysian, 12 were Indonesian, nine were from the United Kingdom, four were from Germany, four were from Belgium, three were from the Philippines, one was Canadian and one was from Hong Kong.
But Dutch Security and Justice Minister Ivo Opstelten says there were 173 Dutch citizens aboard Flight 17.
Authorities were still trying to determine the nationalities of the other passengers.
The International AIDS Society said in a statement that "a number" of its members were on the plane on the way to a conference in Melbourne, Australia.
"At this incredibly sad and sensitive time, the IAS stands with our international family and sends condolences to the loved ones of those who have been lost to this tragedy," the statement said.
Airline's troubles
Thursday's crash marks the second time this year that Malaysia Airlines has faced an incident involving a downed plane.
On March 8, Malaysia Airlines Flight 370 disappeared with 239 people on board. Searchers have found no trace of the Boeing 777 or its passengers despite extensive search efforts.
Flight 370 probably flew into the southern Indian Ocean on autopilot with an unresponsive crew, Australian authorities said last month.
A new underwater search is expected to begin in August. It will be broadly in an area where planes and vessels had already looked for debris on the surface of the water.
**CNN's Nic Robertson reported from Kiev and Laura Smith-Spark wrote and reported in London. CNN's Barbara Starr, Catherine E. Shoichet, Jim Sciutto, Dana Ford, Saima Mohsin, Mitra Mobasherat, Ben Brumfield and Michael Pearson contributed to this report, as did journalist Victoria Butenko.