This is an archived article and the information in the article may be outdated. Please look at the time stamp on the story to see when it was last updated.
FISHERS, Ind. — Firefighters from Fishers extricated two occupants of a car that flipped into a water-filled ditch this evening.
The two occupants suffered injuries that were not life-threatening. EMS personnel transported them  for evaluation.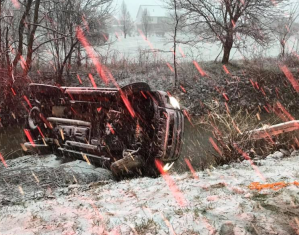 The car was on 96th Street a little east of Georgia Road when it went off the road. The crash occurred around 7 p.m.
With the roads slick and hazardous, Fishers emergency personnel advise people to slow down or avoid traveling.