This is an archived article and the information in the article may be outdated. Please look at the time stamp on the story to see when it was last updated.
By Zach Myers
CARMEL – Carmel city leaders will soon start ticketing semi truck drivers who stray from posted detours onto city streets and roundabouts near the area of the U.S. 31 closure.
The Carmel City Council just passed a temporary ordinance to ban trucks weighing more than 19,500 pounds from specific streets near U.S. 31 construction. Trucks making local deliveries are exempt from the ban.
"These big trucks on these residential streets, the streets aren't made for that," said Carmel City Councilman Rick Sharp.
Sharp and others say the ordinance is in response to too many truckers who don't follow the detour signs directing traffic to use Keystone Avenue to avoid the U.S. 31 construction. The closure of U.S. 31 between Old Meridian Street and 136th Street has been in effect since April. It is scheduled to stay closed until Thanksgiving. The added restrictions are expected to stay in effect through the duration of the closure.
"We've had one humorous incident where a semi tried to navigate a roundabout and got hung up on the fountain in it," Sharp said.
But, Sharp says he has also witnessed the public safety risk associated with big trucks navigating the congested area. Several weeks ago, he says he had to slam on his brakes at the intersection of Old Meridian and Carmel Drive to avoid being hit by an 18-wheeler running a red light.
"I don't think that truck is going to stop," he recalled. "And just before I hit the midpoint of the intersection, I stopped because the truck did not stop."
Once enforcement begins, trucks weighing more than 19,500 pounds will not be allowed to travel on: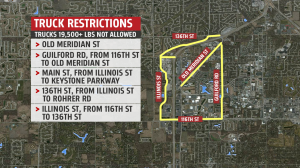 • 136th Street, from Illinois Street to Rohrer Road
• Main Street, from Illinois Street to Keystone Parkway
• Illinois Street, from 116th Street to 136th Street
• Old Meridian Street
• Guilford Road, from 116th Street to Old Meridian Street
Carmel Police Lt. Joe Bickel told Fox59 officers will soon be briefed on the new ordinance. The Carmel Street Department still needs to put up warning signs about the new weight restrictions. After that, Sharp said police would probably be able to start issuing tickets to violators in the next few weeks.