This is an archived article and the information in the article may be outdated. Please look at the time stamp on the story to see when it was last updated.
By Nicole Pence
INDIANAPOLIS, Ind. (Oct. 17, 2014)-- One central Indiana high school is taking more precautionary measures after two students committed suicide this year.
It's been nearly two months since Stuart Hobson's son, David, took his own life.
"He had clinical depression, and it was something that got very acute in the last year. Something we thought we were on top of, said Stuart Hobson.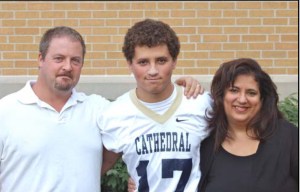 Suicide is the second leading cause of death for Hoosiers between the ages of 15-24. Thirty teens kill themselves each year.
The Cathedral High School family lost two students this year - David Hobson and another male student. Now this school is trying to be more proactive.
"We have a committee with parents and teachers and students that are looking at the issue of mental health. Looking at issues of social awareness and stress," said Cathedral High School Principal Dave Worland.
Alec Hobson, David's brother and Cathedral freshman, says that since his brother's death, more teens are talking and pushing their friends, to reach out if they need help.
"There has been a huge difference at Cathedral. Anyone that needs help should get help," said Alec Hobson.
Dr. Julie Steck with Children's Resource Group says 30 percent of high school students will have symptoms of a major depressive disorder, and parents need to promote resilience in teenagers - focusing on positive mental health.
"I am honestly surprised how open teens will be when asked the right questions and show that you care," said Dr. Steck.
Stuart Hobson is going to be creating an organization to help put a stop to teen suicide.
"There is nothing that will bring David back, but something good can come from this," said Stuart Hobson.