This is an archived article and the information in the article may be outdated. Please look at the time stamp on the story to see when it was last updated.
VANCOUVER, B.C. (August 26, 2014)– Video that has surfaced of the CEO of large catering company Centerplate has people on social media calling for the man to be fired after he was allegedly caught on camera abusing a dog inside an elevator.
Centerplate provides catering services to Lucas Oil Stadium. Following a 2009 Fox59 investigation, CEO Desmond Hague visited Indianapolis to address allegations of dirty conditions inside the stadium. So far, there are no indications this latest incident would affect the stadium or its concessions.
"Centerplate is a valued vendor for both Lucas Oil Stadium and the Indiana Convention Center.  The actions of its CEO Desmond Hague, however, are, in his own words, embarrassing and shameful.  His conduct was personal and do not reflect on the thousands of Centerplate employees.  The Capital Improvement Board will remain in contact with Centerplate management on their internal review before evaluating any change to our business relationship," board President Ann Lathrop said in a statement.
The catering company also provides services for the Indianapolis Zoo.
"We are aware of an investigation of an incident involving Centerplate CEO Des Hague in Vancouver. While it would be irresponsible for us to speculate on any case during an investigation, abuse or mistreatment of any animal is clearly and obviously unacceptable. We are deeply disturbed by the allegations and will wait for the results of the investigation," zoo personnel said.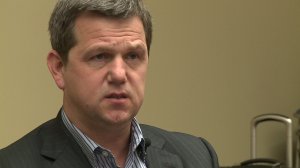 The incident happened at a Vancouver hotel, and sparked a British Columbia Society for the Prevention of Cruelty to Animals (BC SPCA) investigation after Desmond Hague was repeatedly seen kicking a Doberman Pinscher puppy and pulling it by its leash, according to Canada's Global News.
Hague said in his apology to PIX11 that the dog wasn't his, and that he was pet-sitting for a friend when the pooch, named Sade, caused him to "lose control" after a "minor frustration."
"Unfortunately, I acted inappropriately, and I am deeply sorry for that and am very grateful that no harm was caused to the animal," Hague continued.  "I have reached out to the SPCA and have personally apologized to the dog's owner."
Centerplate tweeted the following statement about Hague:
In no way do we condone the mistreatment of animals. This is a personal
matter involving our CEO that we are currently investigating.

— Centerplate (@centerplate) August 26, 2014
On Wednesday, Centerplate released the following statement to FOX59:
Centerplate's Board of Directors recently convened a special meeting following the completion of an internal investigation and review of an incident involving animal cruelty by its CEO Des Hague.

We pride ourselves as individuals and as a company on how we treat others—both humans and animals. The company finds Mr. Hague's personal behavior unacceptable and outside the bounds of our high standards and expectations of all of our staff.  We do not condone nor can we overlook the mistreatment of animals and Mr. Hague's personal misconduct.

Thus, upon internal review of the incident, and recognizing that Mr. Hague is truly ashamed of his actions and has expressed sincere remorse and shame for erratic behavior that is uncharacteristic of him we have decided to take the following immediate actions:

Mr. Hague will be given a written censure by the Board whereby he will be placed on indefinite probation stating that any further acts of misconduct would result in immediate termination.

As a condition of his continued employment with Centerplate, Mr. Hague will personally donate $100,000 which will be donated towards the establishment of the Sade Foundation in honor of the dog he mistreated in the elevator to help support the protection and safety of animals in the city of Vancouver where the incident occurred.

Further, we are requiring Mr. Hague to serve 1000 hours of community service in support of an organization that serves to protect the welfare and safety of animals.

Centerplate in no way condones the mistreatment of animals, and as a strong sign of our conviction, we the company will also contribute a portion of our sales to the Sade Foundation. Additionally, we will open this foundation to all Centerplate employees and the general public who want to support and contribute in the hope that meaningful change can come out of this tragic situation.

Mr. Hague still faces potential charges in Vancouver, where he is personally responsible for charges and fines in relation to the incident.
Those in Indianapolis' animal community said they hoped this would at least provide an opportunity to talk about animal abuse.
"That dog didn't understand what it had done wrong," Kirsten Vantwoud with Indy Humane said.
Vantwoud said it's important to always report suspected abuse.
"Animals that are cowering when you see them, bad body condition, they may be thin or dirty looking, they may have wounds that you'll notice. … (You) have to be willing in the first place to stand up and say that's not okay," Vantwoud said.
Hague has not been charged in the incident and remains CEO of the company, pending investigation.