This is an archived article and the information in the article may be outdated. Please look at the time stamp on the story to see when it was last updated.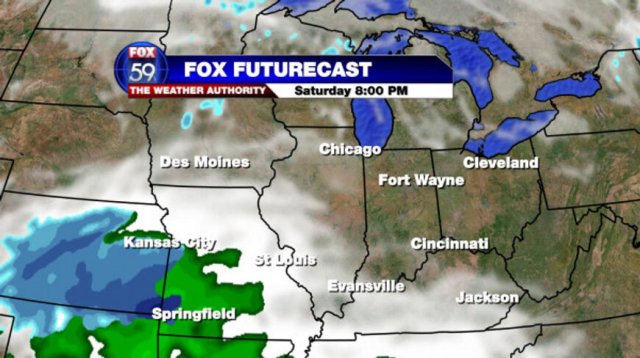 We're tracking more snow for the weekend with potential accumulations of more than 3 inches across the state.  More information will come in today from short range model data (day 1 – 3) and the National Weather Service will begin to update their winter forecast with percentages of what we will be able to expect.  At this time there is a lot of uncertainty with the track and the amount of snow that is going to be possible.
Right now the GFS and the EURO are better aligned when it comes to what to expect.  Both models are showing snow picking up on Sunday morning and continuing through the day.  The heaviest snow could be coming down just after noon.  Once again this is based on information that has come inthis morning and the timing will likely change.
Something else that will likely change is the current track.  At this point the GFS continues to pull the low south of its earlier track that put heavy snow over Northern Indiana.  It's current track is similar to what the euro is now forecasting.  This track takes an area of low pressure over the Kentucky-Indiana state line moving east northeast.  This focuses the heaviest snow over Bloomington.
Finally ahead of any snow that heads our way we will see a mini warm-up with highs on Friday and Saturday hitting the 40s.  It may actually be comfortable for some on Saturday with highs in the 40s.  It may be another week until we have a chance to hit the 50s.  We also expect to see clear skies starting today and lasting through Saturday afternoon.