This is an archived article and the information in the article may be outdated. Please look at the time stamp on the story to see when it was last updated.
INDIANAPOLIS – A gas station convenience store clerk was only working his second day on the job when he was shot to death by attempted robbery suspects early Wednesday morning.
The family of 39-year-old Evalide Ndiaye say the Senegal native took the extra job at the Rickers BP station, at 38th and High School Road, so he could save up money to visit his sick mother back home.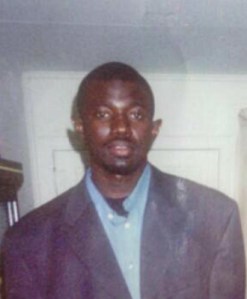 "He was a wonderful man," said Ndiaye's wife of 13 years, Tanya.  "He was always so happy and he made others around him happy."
Indianapolis Metropolitan police were holding two male possible suspects and a female possible suspect.  Detectives believe the three were also involved in a second robbery at a gas station at 71st and Keystone.  The first two suspects were captured after a car chase near 54th and Keystone.  A third suspect was found a couple hours later, hiding in a van near 38th and Temple.
Officers arrested 19-year-old Shayne Thompson, 20-year-old Jania Hudson and 20-year-old Ryan Clark, all from Indianapolis. Preliminary charges include murder, robbery and resisting arrest. Formal charges are expected to be filed Friday.
"All I can do is pray for them," said Tanya Ndiaye.  "Not only have they ruined our lives, but their own lives for just a few dollars."
As detectives piece together the events of the violent morning, advocates for more security at convenience stores are renewing their call for stronger state requirements.
"I am still very upset, I mean very extremely angry," said Perry Tole upon hearing the news of Ndiaye's death.  Tole is the brother-in-law of Marcy Birnell, who was shot in the head while working at an Indianapolis Village Pantry store.
Since Birnell's shooting, Tole has been calling on the convenience store industry to adopt better security precautions for employees.
"Having someone killed, murdered on the job once every couple of years… it's okay for them," Tole said.  "It's just, you know, a cost of doing business apparently."
The family of Marcy Birnell released a statement Wednesday, which said in part:
"There is no other industry where an employee can be killed at least every couple of years while industry leaders stand by and do nothing to prevent these murders. We are appalled and find this inaction completely unacceptable. At some point industry leaders must find the value in the lives of their employees and be willing to make the necessary changes in order to keep another family from having to bury a loved one."
State Representative Ed Delaney, D-Indianapolis, authored House Bill 1440, which became known as Marcy's Law.  It would have mandated tighter security like extra employees and bullet proof glass at stores where crime was an issue.
The bill failed to pass out of committee during the 2013 legislative session.
Since the same BP Station at 38th and High School Road had been robbed at gunpoint in February 2012, Delaney says it would have fallen under the umbrella of his bill, had it passed.
"People are shooting at police as if it's no big thing in their minds," Delaney said.  "This is monstrous conduct.  Other people are shooting down people working 8 or 10 dollars an hour to sell them food.  We got a big problem here."
Delaney says the main obstacle to passing Marcy's Law is the cost of implementing more security.
"It costs about $25,000 to $30,000 to have a bulletproof, plexiglass location in each store," he said.
But Delaney says he hopes to work with representatives of the convenience store industry to address cost concerns.
And he plans to introduce a version of his bill again next year.