This is an archived article and the information in the article may be outdated. Please look at the time stamp on the story to see when it was last updated.
Tracking light snow and flurries out west this morning…In the short term (morning rush), dry but cold weather will hold with temperatures ranging between 5 to 12° (wind chills: 0 to 5°).
Expect some snow to move in this afternoon/early evening with slick areas at times.  Not a lot of moisture to work with so snow amounts will be light…Here is the latest thinking: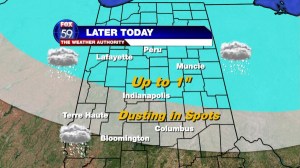 A few more flurries on Thursday with another chance of accumulating snow on Friday…early estimate still showing 2 to 4 inches for the city!  Stay up-to-date with the latest forecast on FOX59!