This is an archived article and the information in the article may be outdated. Please look at the time stamp on the story to see when it was last updated.
Central Indiana started the day with wet and dreary conditions.  Rainfall totals came in around .3″ or less across the state.  A little bit of sunshine is back to Central Indiana this afternoon but colder air is the name of the game today!  Temperatures have only made it into the low 50s and tonight will also be colder as well.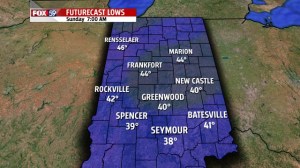 We should bottom out in the upper 30s!  Skies will go from partly cloudy to mainly clear tonight and this will help temperatures drop quickly overnight.  The mainly clear conditions last into Sunday morning for a cool but sunny start to the day.  We'll see a few more clouds building in that afternoon to make it look more partly cloudy.  But other than a few clouds, temperatures will bounce back into the low 60s for a much more comfortable afternoon. Sunday will also prove to be a breezy day with winds from the southwest at 5-15 mph. Gusts could peak as high as 25 mph.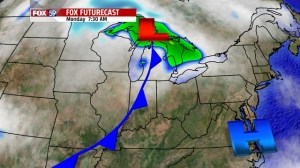 Skies remain partly cloudy again on Monday despite the passing of our latest cold front. Temperatures will reach their high by the noon hour and start slipping later into the afternoon hours.  The cold front is not going to be a big rain producing line, but more of a temperature boundary than anything.   We'll be lucky to see an isolated shower out of this event.  What we are likely to see is yet another temperature drop!
Tuesday will be significantly colder with temperatures only near the 50 degree mark!  This is proving to be a roller coaster ride for a couple of days.  But the temperature ride is not climbing back up as the week progresses.  We are going to stay on the cool side for several days this coming week.  Wednesday will be cloudy with spotty showers during the day and temperatures will only be in the mid to upper 40s.  Even overnight temperatures are slipping closer to the freezing mark by Thursday morning and likely at that temperature going into Friday morning.