This is an archived article and the information in the article may be outdated. Please look at the time stamp on the story to see when it was last updated.
INDIANAPOLIS (May 4, 2015) – The 2015 NFL draft is now in the books, and the experts are weighing in on how the Colts did with their eight selections.
Indianapolis selected as follows:
Round 1: 29th pick (29) — WR Phillip Dorsett, Miami (Fla.)
Round 3: 1st pick (65) — CB D'Joun Smith, Florida Atlantic
Round 3: 29th pick (93) — DE Henry Anderson, Stanford
Round 4: 10th pick (109) — S Clayton Geathers, UCF
Round 5: 15h pick (151) — DT David Parry, Stanford
Round 6: 29th pick (205) — RB Josh Robinson, Mississippi State
Round 6: 31st pick (207) — LB Amarlo Herrera, Georgia
Round 7: 38th pick (255) — OL Denzell Good, Mars Hill
So did the Colts make the grade with this draft? Did they address their needs sufficiently with their moves, or did they leave something to be desired?
 Fox Sports gave the Colts at C+.
Coach Chuck Pagano and the Colts, better know as Miami Midwest, added some more speed from the Sunshine State. By drafting WR Phillip Dorsett and CB D'Joun Smith, Indianapolis gets two players who have a feisty competitive nature. Then, Indy traded down and neted an early fourth-round pick and added Henry Anderson in the third. An all-around strong performance. Getting Clayton Geathers in the fourth round fills a major need at safety. And what do you know? He's from Florida, too.
Evan Silva at Rotoworld gave the Colts a C+.
GM Ryan Grigson caught a ton of heat after day one for failing to address a need with the Dorsett pick. Grigson explained it was a by-the-board selection, as Indy assigned Dorsett by-far the highest grade of remaining players. The Colts attacked needs while still keeping in mind "value" the rest of the way, adding a potential future No. 2/slot corner in Smith, powerful five-technique end in Anderson, rotational run-stopping help in Parry, and a violent wrecking-ball runner in Robinson. There were teams that had better drafts this year, but I definitely disagree with the prevalent notion that Grigson did poorly.
A couple of CBS Sports analysts loved the Colts' pick of Phillip Dorsett.
(He's) a deep burner who can stretch the field. He averaged 18.6 yards per reception over those three seasons, scoring a touchdown just about every other game. His 4.33-second 40-yard dash time was expected due to the fact that Dorsett is also a track start, and he scored equally well in the 10-yard split, three-cone and shuttle drills. His speed also translates well in games, as he could occasionally be spotted five yards behind a cornerback. Where Dorsett cannot always be counted on is when it comes to making contested catches. Given his stature, this should not come as a surprise. He's short and somewhat slight, the typical traits of a player who struggles with this skill.
Vinnie Iyer at Sporting News gave the Colts a C.
Ryan Grigson and Chuck Pagano did well to upgrade their defensive weakness against the run with depth up front and more pop in the back, but given how loaded they are at receiver around Andrew Luck, Dorsett, although a dynamic speedster, was a bit of a head scratcher. They made their other key win-now moves in free agency.
According to IndyStar columnist Gregg Doyel, this draft was a head-scratcher:
The Colts' message during 2015 free agency, which made me stand and applaud: This year, or bust!
The Colts' message during the 2015 draft, which makes me sit and shrug: The next few years, too!"
Most national analysts aren't very impressed with the Colts' moves either:
SI.com's Chris Burke gives the Colts a C+:
"The Colts caught everyone off-guard at No. 29 with their selection of speedy wide receiver Phillip Dorsett. He is an exciting weapon and a home-run threat whenever he's on the field, but Indianapolis already had Andre Johnson, T.Y. Hilton and Donte Moncrief locked in place at receiver. Sure, sticking to an approach of taking the best player available is generally advisable. The Colts, though, believe they are on the brink of a Super Bowl berth, and it's hard to argue the Dorsett pick got them closer than an upgrade on defense would have.
"Those defensive moves did follow. Cornerback D'Joun Smith and defensive end Henry Anderson (both third-rounders) have starter qualities, and safety Clayton Geathers is a nice depth/special teams piece.—CB"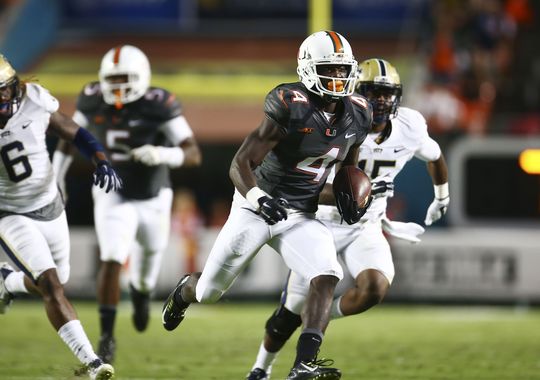 ESPN NFL Nation's Kevin Seifert says the Colts didn't do enough to remedy the weakness in their run defense:
"As you might recall, the Colts have allowed 657 rushing yards in their past three games against the New England Patriots, the team they are chasing for AFC supremacy. And in 2014, the Colts ranked in the bottom third of the NFL by allowing an average of 2.73 rushing yards before contact — an indicator that their front seven was handled often by offensive lines.
"So what have they done to improve it? Their free-agent class includes defensive end Kendall Langford and linebacker Nate Irving, but neither has a reputation as a run-stuffer. In the draft, the Colts took only one real swing at it, selecting Stanford defensive end Henry Anderson late in the third round. Anderson did have 15 tackles for loss last season, but he is known more for his pass-rushing efficiency than ability to hold the line of scrimmage. We shall see if the Colts have more up their sleeve."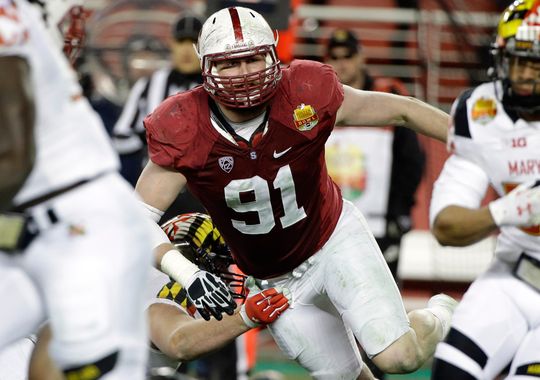 Bryan Fischer of NFL.com gives the Colts a better overall mark, and breaks his grades down by day of the draft:
"Day 1 grade: B-
Day 2 grade: A
Day 3 grade: B
Overall grade: B
"The skinny: The Colts added another speedy wideout to what was already one of the deepest receiving corps in the league. While Andrew Luck will no doubt be happy, the team could have addressed another position such as offensive line or upgraded its defense. There are some questions about Dorsett's ability, but this team will have offensive weapons for days. Smith fills a need on defense and was a favorite of many scouts. Anderson is a filthy steal late in the third round and should be a super disruptive player on the defensive line."
USA TODAY Sports' Nate Davis ranked the Colts' draft 31st out of the 32 NFL teams:
"At pick 29, they obviously acquired an excellent football player in speedster WR Phillip Dorsett. But with fleet wideouts T.Y. Hilton and Donte Moncrief already on board (not to mention vet Andre Johnson), will GM Ryan Grigson regret waiting until the middle rounds to find run defenders while passing on some decent offensive line prospects in Rounds 1 and 2?"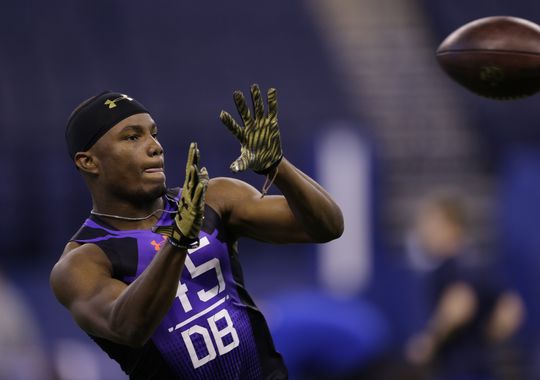 The Washington Post's Mark Maske isn't sold on the Colts' draft strategy, either:
"The Colts added to a position of strength by using their first-round selection on speedy WR Phillip Dorsett. That's not always the wrong way to go. But with the Colts' moves in free agency signaling that they're making an immediate Super Bowl push with some key aging veterans around QB Andrew Luck, maybe that wasn't the best approach for the circumstances. The Colts' most immediately useful pick might end up being third-round DE Henry Anderson. Grade: Grade: C-"
Dan Kadar of SB Nation gave the Colts an overall draft grade of D+:
"I don't understand how the Colts can come out of this draft without drafting a right tackle who can push Gosder Cherilus for the starting job. Dorsett is a fine player and he went in the range he should have in the first round. But how many targets is he going to get in that offense? Smith is right behind Anderson as the Colts' top pick. He's a do-it-all cornerback. Parry is a hard-nosed player who will be a decent backup on the line. Robinson, a bowling ball of a running back, could vulture some carries. Herrera was a smart pick in the sixth round. He's a natural fit in a 3-4 and is, at worst, a solid backup."
(This story was originally posted by out media partners at the IndyStar.)