This is an archived article and the information in the article may be outdated. Please look at the time stamp on the story to see when it was last updated.
COLUMBUS, Ind. – A Columbus Christian High School student is in critical condition after a crash on Friday night.
According to school officials, Levi Sallee, 16, was the passenger in a car driven by Columbus Christian High School graduate Adriane Polley, 19.
Just before 8 p.m. on Friday, their vehicle left the road near Polley's home on County Road 1000 North,  according to Kendall Wildey, Columbus Christian administrator. The car rolled several times and hit a telephone pole.
One of their friends and fellow Columbus Christian student, Logan Roth, happened to be at a nearby house at the time of the crash.
"Saw pieces of telephone pole and pieces of car just flying through the air," Roth said. "Ran over as quick as we could. Once I heard him talk I realized it was Adriane and he was saying Levi was in the car. It was really freaky not knowing  what was going on."
Sallee was trapped in the car. Adriane made it out on his own, according to Roth.
"It was really just an eye opening experience," Roth said. "You never think yo'ure going to go through something like that. It was just really shocking."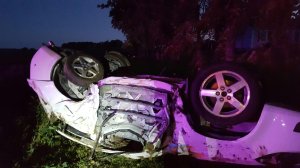 The injured teens were transported by helicopter to Indiana University Health Methodist Hospital in Indianapolis.
The teens' minister, Ron Bridgewater, said support for the families started pouring in as word spread about the crash.
"Friday night there were over 50 people at the hospital," Bridgetwater said.
Sallee remains in critical condition after suffering a severe head injury. He  has not regained consciousness, according to Wildey.  Sallee underwent exploratory surgery to assess the extent of his injuries.
The school posted this update on their Facebook page:
Polley is listed in good condition. Facebook postings indicate he suffered fractured vertebrae, a concussion and a bruised lung. He is expected to be released from the hospital as early as Monday night.
On Tuesday, Columbus Christian School plans to hold a vigil for students at 8 a.m.
The school is also collecting donations for the teens' families to help with medical expenses. For more information, call 812-372-3780.