This is an archived article and the information in the article may be outdated. Please look at the time stamp on the story to see when it was last updated.
COLUMBUS, Ind. – A Columbus man is behind bars accused of stealing a pickup truck with a dog inside.
Police arrested the suspect following a brief chase and crash over the weekend.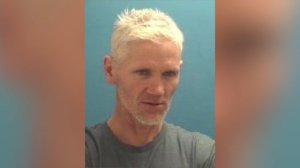 With temperatures dropping, many people start their cars and leave them running as they get out from behind the wheel. Police say that's a common mistake that often results in theft.
"This time of year we really see a spike in these types of thefts," said Columbus police Lt. Matthew Harris. "Many of them are crimes of opportunity."
In this case, the truck's owner says he was helping a friend unload groceries in the middle of the day Sunday and left the pickup running for just a few seconds when he went inside the house.
Investigators say that's when Richard Gahwiller stole the truck, along with the pet beagle, which was inside.
Police immediately spotted the accused crook and say Gahwiller crashed into a metal gate at a nearby business and was taken into custody when the truck got stuck.
Court records show earlier this year Gahwiller was charged in a different but very similar theft.
"The easiest way to avoid something like this happening to you is to shut the car off and take your keys with you," said Harris.
Before crashing into the gate, witnesses say Gahwiller tossed the dog out the truck window as he sped away. Fortunately, the dog was not seriously hurt.
Police say during the fall and winter months, drivers often leave cars running unattended to keep them warm and that is never a good idea.
"We want residents, not just in Columbus but across the state, to think that there are people that will take advantage of the opportunity to take your vehicle," said Harris.
The suspect remains behind bars on charges of auto theft and leaving the scene of an accident.