This is an archived article and the information in the article may be outdated. Please look at the time stamp on the story to see when it was last updated.
COLUMBUS, Ind.– Police say a suspect is in custody in connection with a series of fraudulent withdrawals made from bank accounts of several Columbus residents.
Around 7 a.m. Wednesday, a witness called police after seeing a man using an ATM in the 3500 block of West Jonathan Moore Pike for an unusually long amount of time.
When officers arrived, the suspect tried to run away. The officers took him into custody a short time later, and recovered $1,100 in cash as well as several gift cards that appeared to have been reprogrammed into debit cards with the bank account information of the victims.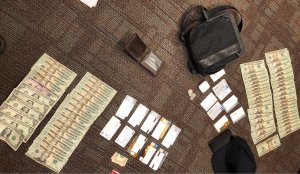 The suspect was identified as Claudiu C. Mihai, 23, of Yonkers, New York.
Columbus police say they've received complaints recently of fraudulent withdrawals. The victims said they were still in possession of their cards and suspected a skimming device was used.
Detectives say residents should check their bank accounts for fraudulent activity. If anything suspicious is found, contact the bank.
Mihai was taken to the Bartholomew County Jail on a preliminary charge of resisting law enforcement. His case has a 48-hour hold on it as detectives continue to investigate, so no mugshot has been released.