This is an archived article and the information in the article may be outdated. Please look at the time stamp on the story to see when it was last updated.
FRANKLIN – Friday night students, parents, and staff held a candlelight vigil at Franklin Community High School to offer prayers and look for hope, after five seniors were involved in a swimming accident.
Two students are in critical condition at Methodist Hospital in Indianapolis. One hasn't been found and is feared dead in the Big Blue River.
Hundreds of community members packed the school's football field.
"It shows how close knit our community is," said Doug Harter, FCHS principal.
The somber moments followed a day filled with heartache. A Friday swim for five students turned tragic in the Big Blue River in Edinburgh.
"It's absolutely terrible," said Jet Quillen, an Indiana Conservation Officer.
Conservation police spent hours Friday looking for 17-year-old Jason Moran, using boats and dragging the bottom of the river in a recovery effort.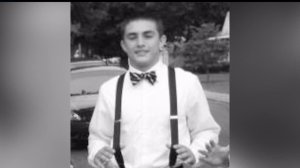 DNR said 16-year-old Sarah McLevish got swept over the dam. We're told the other four boys went after her.
One of them, 17-year-old Trent Crabb, told FOX 59 that he and 18-year-old Mark Naley pulled McLevish and 16-year-old Michael Chadbourne to the shore.
People stepped in to help because the two were found floating in the water.
"He come around and underneath the bridge, and he's like we have to start compressions, do sets of thirty as fast as you can," said Christopher Lloyd, a man who tried to help revive the two.
Conservation police said it might be difficult to find Moran. The area near the dam is at least twelve feet deep, with churning water. They said the river is at flood stage and the spot near the dam is the most dangerous.
"This river right now, we would consider this flood stage. It's at the base of a low-head dam. Low head dams are dangerous, especially with high water conditions. They are dangerous," said Quillen.
Just before 10 p.m., DNR suspended the search for Moran for the night. They will resume on Saturday morning.
It's a brutal reality the Johnson County community tackled Friday night with prayer.
"We had probably 400 people here to show their support and pray for our students, it's quite a tribute to the community of Franklin," said Harter.
Counselors were on hand at the high school Friday evening to talk to students. Administrators said they would also be available Saturday morning starting at 9 a.m.
This slideshow requires JavaScript.